Boxing News 2015: Floyd Mayweather Jr.'s Uncle Wants A Mayweather-Pacquiao Rematch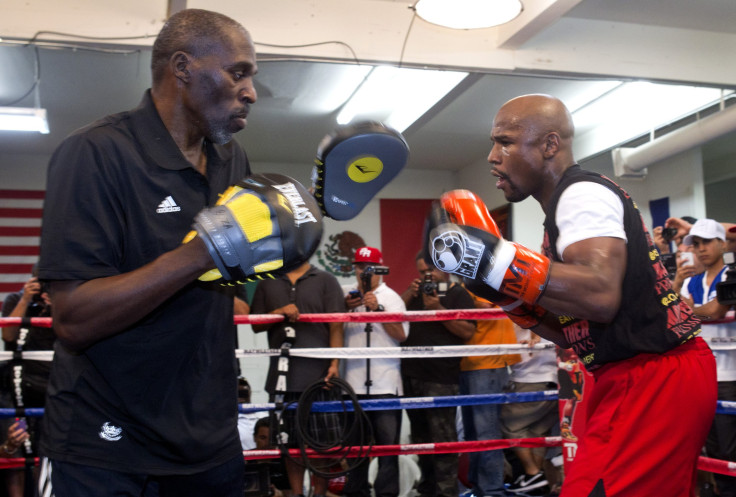 Count Floyd Mayweather Jr.'s uncle and trainer among the boxing enthusiasts who wants to see a rematch with Filipino pugilist Manny Pacquiao. "That's what they should do. If you're going to give the fans 100 percent of your performance, then you need to do that and go in the ring healthy and produce what you would have produced the first time, a good performance. That's what boxing's about," Roger Mayweather told Jenna J of ontheropesboxing.com.
The elder Mayweather added that Floyd's legacy is already "good" but that he needs to beat Pacquiao one more time "to close the door" and cement his legacy among the all-time greats in the sport.
"That would put him among the greatest fighters, but Floyd had a good, long legacy anyways," Roger added in the interview. "He will be among some of the greatest fighters but he's got to close the thing with Pacquiao before he ever does that, because that's one of the known guys that people respect and I think that's the guy that he's going to have to beat or have to show something with."
On May 2, Mayweather Jr. defeated Pacquiao in what was dubbed the "Fight of the Century" at the MGM Grand Arena in Las Vegas Nevada. Mayweather (48-0-0, 26 knockouts) became the undisputed world welterweight champion and remained undefeated in his pro boxing career after the unanimous 12-round decision victory, with judges' scores of 118-110, 116-112 and 116-112.
However, Pacquiao (56-6-2, 38 knockouts) disputed the result, declaring that he thought he did enough to earn the victory over Mayweather Jr. and that he's open to a rematch. Pacquiao claimed he fought while injured, saying he hurt his right shoulder while training about three weeks before fight night.
Pacquiao underwent surgery days after the big bout and is reportedly out for about six to nine months. If both fighters agree to a rematch, it would likely be held in 2016.
To contact author of this article, email j.quizon@IBTimes.com.au.
© Copyright IBTimes 2023. All rights reserved.