Boxing News: Ryan Garcia Raises Stakes On Dream Bout With Manny Pacquiao, Eyes KO
KEY POINTS
Ryan Garcia is willing to move up in weight to face Manny Pacquiao
Garcia is not discounting going for a knockout against Pacquiao
He is left to wait and see if the Pacquiao match will materialize
WBC interim-lightweight champion Ryan Garcia knows that his wish, which is to face Manny Pacquiao, could happen at any moment. Conor McGregor's loss at UFC 257 may have pushed up that probability, but there remains no official word from Team Pacquiao.
Discussions are ongoing and there is no telling if a Pacquiao vs. Garcia will happen. The word going around is that it will be an exhibition fight, something that "KingRy" doesn't want, Boxingscene reported.
For him, it remains that he will enter the ring just like any other fight and will engage in a slugfest. Hence, it cannot be discounted that a knockout may occur. Garcia has that in mind.
"I can't say anything about [what the rules will be], but it's the same question everyone has - will it be an exhibition or will it be a real fight? But I can say this, you have two people in the ring with eight- or 10-ounce gloves, no head protection... tell me if that would be an exhibition or a real [fight]," Garcia said when he spoke to ESPN Deportes.
"We are two real fighters. I'm not going to throw lies, and neither is he," he added. "You can call it what you want, but it will be a fight. I will throw punches as if I want to knock out Pacquiao."
The right fight to make now is Pacquiao vs. Garcia. Fans want to see the top two boxers in the sport today despite the Pac-Man not having fought since July 2019. There is no telling what condition he is in right now.
In fact, the inactivity resulted in Pacquiao being stripped of the WBA welterweight title. He was branded as a "champion in recess" with the title being given to Yordenis Ugas, according to the WBA website.
As for Garcia, there is the matter of weight. At 135 pounds, the undefeated fighter is two weight divisions down. However, the 22-year-old sees no problem with that and is willing to move up if that is what would seal a fight with the Filipino boxing icon.
"[The weight issue], it can be fixed very easily, I am willing to do what has to be done. Whatever Manny wants in weight, I'll do it. I'm a big fighter, I'm not a little 135-pounder. I'm big, so if I have to move up [to welterweight] - I'll do it," Garcia stated.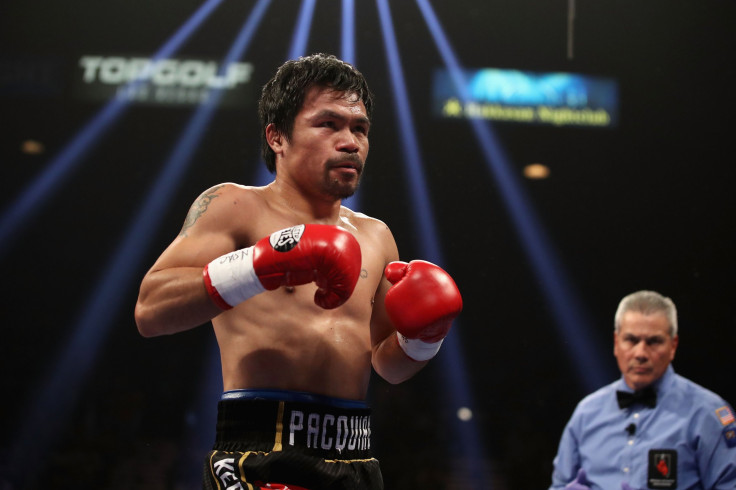 © Copyright IBTimes 2023. All rights reserved.