Boxing News: Yordenis Ugas Looks To Add More Historic Accolades
KEY POINTS
Yordenis Ugas is looking to add Errol Spence Jr. to his list of high-profile boxers he has defeated
The Cuban foe hardly cares if he is once again an underdog
Spence is the favorite to win over Ugas in their April 16th clash
Yordenis Ugas has garnered attention as the man who sent Manny Pacquiao into retirement.
While that is a distinction that will forever be tied to his name, the 35-year-old Cuban wants more.
He will get to add another worthy name to his list of conquests on April 16 when he faces Errol Spence Jr.–the same man whom he replaced to face the Filipino boxing icon in August of last year.
It will be a bigger challenge for the Cuban pugilist as it will be a welterweight title unification bout at the AT&T Stadium in Arlington, Texas.
"Being an underdog means nothing to me," Ugas stated in an interview with Boxing Junkie. "I was the underdog against Pacquiao and now again against Spence. I've always been the underdog, and it doesn't faze me."
There will be three belts on the line. But as far as the Cuban is concerned, it is also about fighting for honor and respect.
It has been quite a boxing career run for Ugas who started it all out with a sting with the Cuban boxing team in the 2008 Olympics.
He had a rough 2014, suffering back-to-back losses at the hands of Emmanuel Robles and Amir Khan.
Ugas took time out from the sport for about two years before bouncing back in 2016 with a new style and drive.
This started with a decision win over then-unbeaten boxer Jamal James.
"I was out of the ring for a long time, but when I came back and gave Jamal James the first loss of his career, I knew that I would be coming for big things," Ugas said.
From there, Ugas found his identity in the boxing ring by racking up one win after the other.
The only glaring mark in that was his loss to Shawn Porter in 2019 via split decision for the WBC welterweight title.
But of all his fights, there is no denying that his win over Pacquiao will stand out.
Now, he gets to add another victim to his list of big boxing names if he scores a huge win over Spence in April.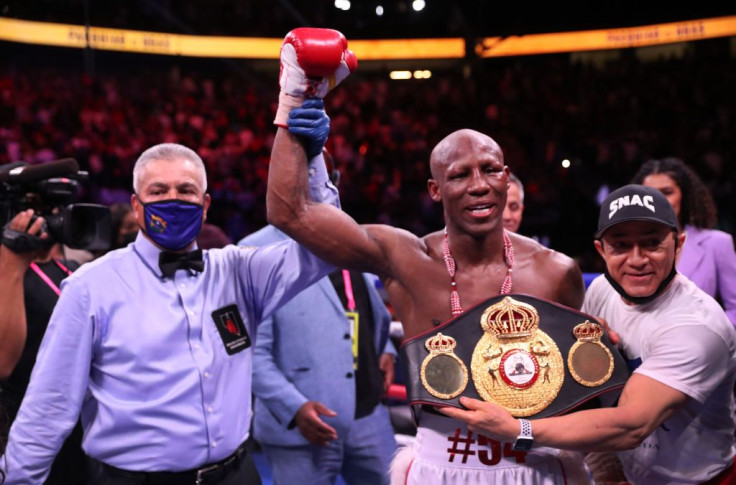 © Copyright IBTimes 2023. All rights reserved.