Bradley's PGA Win Underscores Modern Game's Strength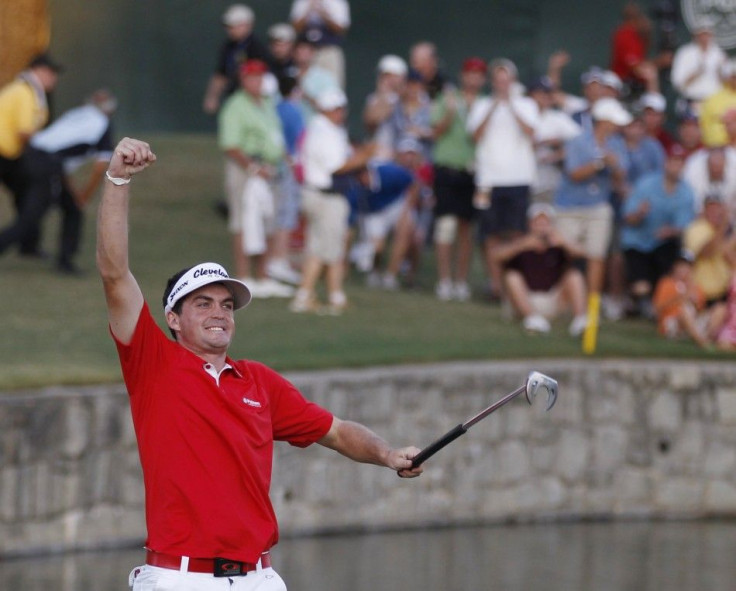 The wild, roller-coaster finish to the 93rd PGA Championship at Atlanta Athletic Club on Sunday was unpredictable as it unfolded but it was not unlikely.
Keegan Bradley's gripping playoff victory over fellow American Jason Dufner underlined how much strength in depth the modern game now enjoys and that virtually any player in the field can triumph if on song that week.
PGA Tour rookie Bradley, ranked 108th in the world, was competing in his very first major while 80th-ranked journeyman Dufner was competing in his 11th in as many years.
Coming into this week, most of the game's leading players felt at least 40 golfers were capable of winning the year's final major, and that number almost certainly did not include either Bradley or Dufner.
Ten of the last 11 majors have been clinched by first-time winners, with 2010 Masters champion Phil Mickelson the sole exception in that span.
"The top players are not dominating like they were, which I think is great for the Tour," Bradley told reporters after beating Dufner by one stroke over three extra holes to claim his second victory on the U.S. circuit.
"It gives an opportunity for a player like me to win this thing. I just think the game is as deep as it's ever been and it's only getting deeper."
Former world number one Tiger Woods, who missed the cut at the PGA Championship for the first time in only his second PGA Tour event following a three-month injury absence, has been hugely impressed by the game's emerging young talent.
"You have this new young crew coming up, and there are probably two generations to that young crew," the 14-times major champion said on the eve of the tournament.
"You have the guys in their early 30s, like Adam (Scott), and those guys in their mid-20s and the teenagers, Ryo (Ishikawa) being 19. It's just ungodly how good these guys are at such an early age."
Of all the majors in recent times, the PGA Championship attracts the strongest field and yet it has often been the most likely to produce a surprise winner.
The coveted Wanamaker Trophy was won in consecutive years from 2002 by unheralded Americans Rich Beem and Shaun Micheel, showing how wide open the season's final major has been.
OPENED UP
"The whole game has opened up now," said Northern Irishman Darren Clarke, who claimed his first major title at last month's British Open. "The European Tour now, of which I'm proud to be a member, we have got some fantastic players.
"There are great players dotted all around the world, and the more that the (PGA) Tour has opened up (for others) to come and play over here, the stronger the foreign players have become."
Another reason why the PGA Championship has tended to produce 'surprising' winners is that of all the majors, it is the one most likely to be staged on a PGA Tour-style venue.
Atlanta Athletic Club's Highland course fit the bill in this regard, though it also featured a closing four-hole stretch that Woods rated as among the most punishing he has ever seen.
"It's a hell of a test coming in," four-times winner Woods said after a practice session. "I don't think there's another stretch that I can remember that's this difficult.
"You have two long par-fours going uphill, a par-three in which more guys will be hitting lumber (woods) and 18 being as tight as it is for as long as it is. If you play those 16 holes even par, you'll be picking up a ton of shots on the guys."
As it happened, those last four holes played .584 strokes over par during the PGA Championship, making them the fourth most difficult closing stretch in a major dating back to 1983.
While virtually all the players were fulsome in their praise of the Highland course set-up, the tricky par-four 18th attracted some criticism with many feeling it should have been a par-five last week.
"I don't think I've ever played a tougher four-hole closing stretch, I just wish they played 18 as a par-five all the way back," American Sean O'Hair told Reuters.
"Eighteen is just hanging on for dear life."
South African Trevor Immelman, the 2008 Masters champion, agreed about the daunting 507-yard last.
"Eighteen is not a very good hole at any spot, especially as the finishing hole for a tournament like this," he said. "You could improve it dramatically by making it a par-five.
"I played with a long hitter (in the final round), Gary Woodland, and he hit four-iron off the tee and then a two-iron into the green. That just doesn't make any sense to me. It's just unfortunately not as solid as the other 17 holes."
© Copyright Thomson Reuters 2023. All rights reserved.