Brazil Benchmark Interest Rate Holds As Inflation Continues To Weigh Heavily On Beleaguered Economy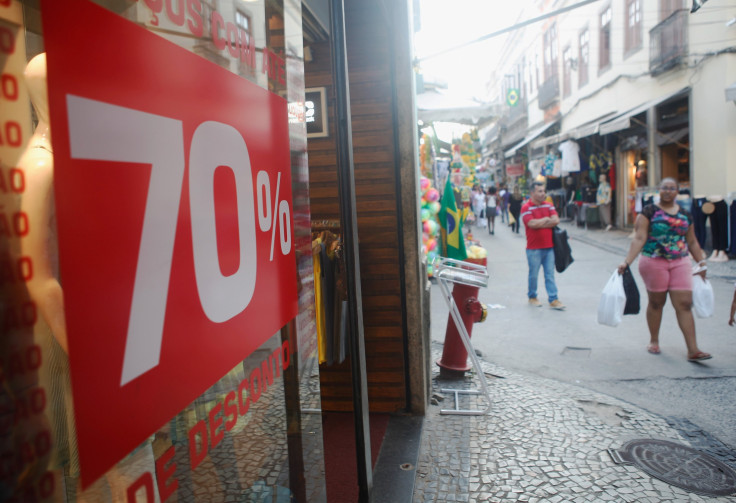 Brazil's central bank left its benchmark borrowing rate unchanged Wednesday, at 14.25 percent, in a widely expected move. Facing the prospect of its worst recession in 115 years and stuck between high consumer prices and stalled economic growth, Brazil's central bank has little wiggle room for spurring growth by lowering borrowing rates.
Lowering the benchmark borrowing rate can spur economic activity, but also can cause inflation to rise.
The Banco Central do Brasil said in a statement in Portuguese on Wednesday that the current high levels of inflation seen over the past 12 months "do not offer room for easing monetary policy."
The country's consumer price index rose to 9.3 percent on an annualized basis last month, more than double the bank's target of 4.5 percent. Growth is expected to slow to 7.1 percent this year, according to analysts polled by Thomson Reuters.
This was Banco Central do Brasil President Alexandre Tombini's last policy meeting. Economist Ilan Goldfajn was approved to succeed Tombini in a Senate vote Tuesday. "As head of the central bank, I promise to meet the inflation target, thus contributing to economic recovery," he said during a hearing, the Wall Street Journal reported.
Brazil is running a budget deficit of nearly 11 percent as is grapples with government overspending amid a profound global commodity market decline over the past two years.
© Copyright IBTimes 2023. All rights reserved.