Brazil Election Poll 2014: President Rousseff Seen As Likely Winner Against Aecio Neves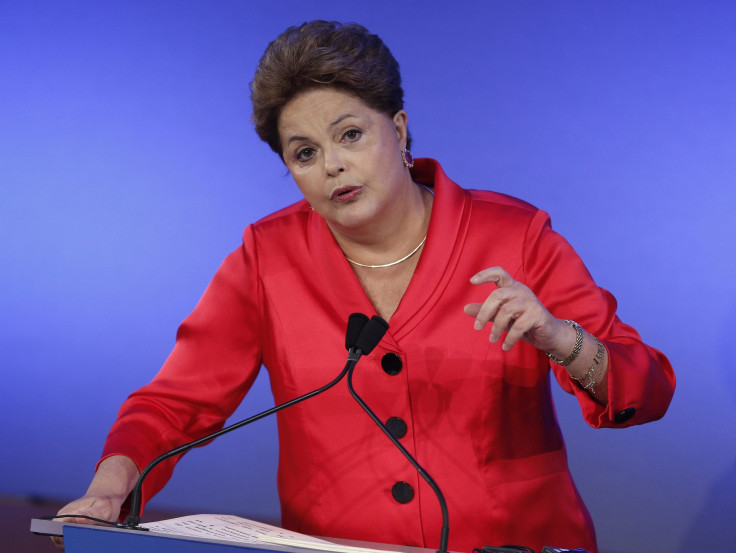 Brazilian President Dilma Rousseff appears likely to beat Senator Aecio Neves as Sunday's presidential runoff nears. Recent polls show Rousseff leading Neves by about 4 percentage points in what is widely seen as a referendum on the country's economy, Reuters reported Thursday.
Rousseff, who is seeking her second term, appears to have the momentum three days before voters go to the polls, but the result is anything but guaranteed, as her lead is close to the margin of error and Neves' fiscally conservative policies have generated excitement among many voters. But financial markets appear to be going on the assumption that Rousseff will win, according to a Forbes analysis.
Brazil's major polling firms, Ibope and Datafolha, show Rousseff with a lead greater than the margin of error, which is plus or minus 2 percentage points for both. Rousseff has 49 percent against 41 percent for Neves, according to Ibope, and 48 percent over 42 percent for Neves, according to Datafolha.
Ibope is predicting Rousseff will win with 54 percent of the valid votes against 46 percent for Neves, while Datafolha has her winning by 53 to 47. "We are seeing a turnaround. It's visible on the streets," Rousseff, 66, said at a news conference at a Rio de Janeiro hotel last week.
Whoever wins will be left with the tremendous task of reinvigorating the Brazilian economy in the crucial period between this year's World Cup and the 2016 Summer Olympics. "We think the new president will face a challenge to improve Brazil's GDP, investment and productivity, especially with the economy barely growing," Geoff Dennis, a UBS strategist in Boston, told Forbes.
Rousseff, a leftist, has solidified support among Brazil's middle class, but analysts say that if she cannot mobilize supporters to go to polls or if enough of her backers defect to the more centrist Neves, the race could easily tilt in his favor.
© Copyright IBTimes 2023. All rights reserved.