Brazil Truth Commission Report On Military Era Abuses Brings Rousseff To Tears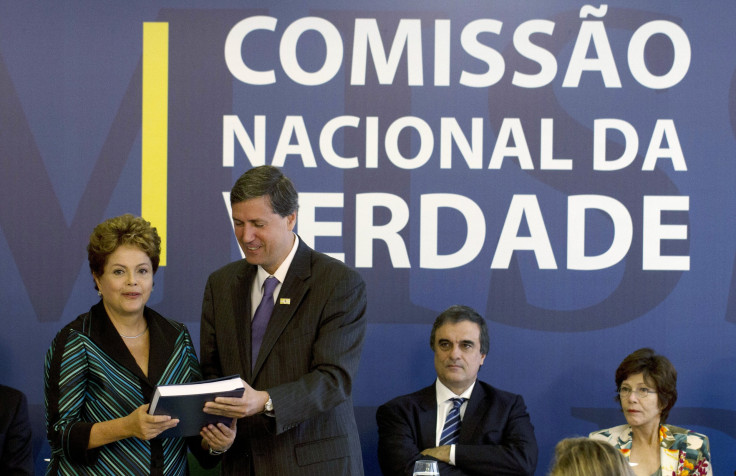 More than 400 people were killed during Brazil's military dictatorship over 30 years ago, according to a long-awaited report released Wednesday from Brazil's truth commission. The 2,000-page account of forced disappearances, executions and torture that occurred under military rule brought President Dilma Rousseff, herself a victim of torture during that period, to tears.
The seven-member truth commission spent two years researching human rights violations that occurred in Brazil under the military regime from 1964 to 1985, and released its findings Wednesday in a nod to International Human Rights Day.
The report also comes a day after global attention spotlighted the U.S. Senate Intelligence Committee's report on torture.
Brazil's truth commission found that "repression and the elimination of political opposition became the policy of the state" during that time, rejecting theories that human rights abuses committed during that period were isolated acts.
According to the findings, 434 people were killed or forcibly disappeared, with 210 victims' bodies never found. However, the commission noted that these were only the confirmed cases, with the actual number likely higher. Of the 377 people deemed responsible for the abuses, 191 were still alive, the report said.
Rousseff, who as a former leftist guerrilla was imprisoned and tortured under the regime in the 1970s, spoke emotionally about the findings at a ceremony Wednesday morning. "This report will make it so the ghosts of a sad and painful past are not protected by the shadow of omission," she said, according to local reports.
The president recalled that many of her compatriots, guerrillas like herself, were killed or disappeared without a trace during the period of dictatorship. "Brazil deserves the truth," she said. "The new generations deserve the truth. And above all, those who deserve the truth are those who lost family members, friends and companions and who continue to suffer as if they were dying again, every day of their lives."
The commission also recommended a repeal of Brazil's 1979 amnesty law, which shields from prosecution those military officials and guerrillas who committed abuses. But legal analysts say there's little chance the law will be repealed, as the nation's highest court verified the law's constitutionality less than four years ago. Rousseff has also reportedly resisted pressure from within her party to make a repeal of the law a priority.
© Copyright IBTimes 2023. All rights reserved.