Brazilian Lawmakers Expected To Recommend The Impeachment Of President Dilma Rousseff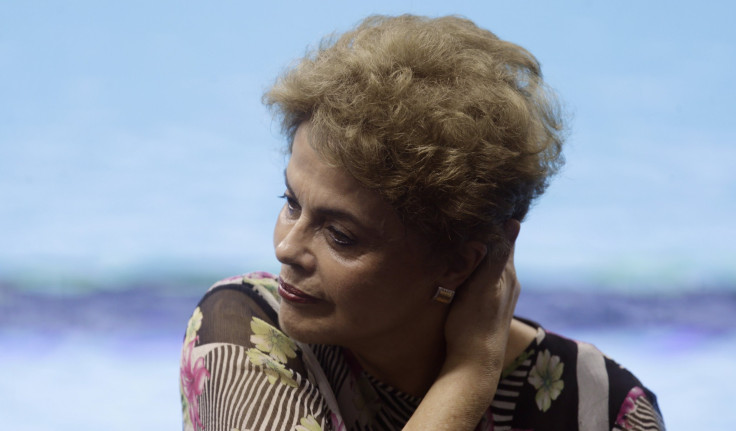 UPDATE: 7:55 p.m. EDT — An impeachment committee of Brazil's lower house of Congress voted 38-27 on Monday that there are grounds to impeach President Dilma Rousseff on charges of breaking budget laws to allegedly favor her re-election in 2014.
Now, the full lower house must vote on the impeachment proceedings, which is expected to take place on Sunday.
If two-thirds of its members vote in favor, the impeachment will be sent to the Senate and Rousseff would be suspended if the upper house agrees by a simple majority to put her on trial.
Original story:
BRASILIA, Brazil — A congressional impeachment committee is expected to vote Monday in favor of sending President Dilma Rousseff to trial for breaking Brazil's budget laws, presidential aides said, in the first major step toward her possible removal from office.
Supporters and opponents of the embattled left-leaning president gathered in the Brazilian capital ahead of the impeachment decision, which is due to be put to vote in the full lower house of Congress on Sunday.
Bracing for clashes, police erected a 1 km (0.6 mile) metal fence down the middle of the wide grass esplanade in front of Congress to separate rival demonstrators.
The battle over Rousseff's impeachment has polarized the nation of 200 million people and brought the government of Latin America's largest economy to a virtual standstill.
Presidential aides said a majority of the 65-member committee was expected to recommend that Rousseff, Brazil's first female president, be impeached on charges of manipulating budget accounts to boost her re-election prospects in 2014.
The government is focused on convincing lawmakers to vote against impeachment or abstain in the full house vote Sunday by offering government jobs that became vacant when Rousseff's main ally, the PMDB, broke with her two weeks ago.
If Rousseff's opponents are successful, it would be the first impeachment of a Brazilian president since 1992 when a politically isolated Fernando Collor de Mello faced massive protests for his ouster on corruption charges and resigned on the eve of his conviction by the Senate.
"There are sufficient indications to proceed with impeachment," Jovair Arantes, a congressman and the committee's rapporteur, said at the opening session Monday. Arantes said in his official report Friday there were constitutional grounds to impeach Rousseff.
Attorney General Jose Eduardo Cardozo, addressing the raucous committee meeting, said Arantes had not managed to pinpoint a crime by Rousseff and the move to oust her was unconstitutional. "It is absurd to remove a legitimately elected president for an accounting problem," he said.
Margin of Victory Key
A survey released Friday by Brasilia-based consultancy ARKO Advice predicted that 33 of the 65 committee members will vote for impeachment, with 22 against and 10 undecided.
The margin of victory will be important in swaying undecided lawmakers in the lower house plenary vote, where recent polls show neither side has guaranteed enough support.
Rousseff, a former leftist guerrilla, has denied any wrongdoing and rallied the rank and file of her Workers' Party to oppose what she has called a coup against a democratically elected president.
Brazil Overview | FindTheData
But caught in a political storm fueled by Brazil's worst recession in decades and its biggest-ever corruption scandal, Rousseff has lost key coalition allies in Congress.
Her mentor and predecessor as president, Luiz Inacio Lula da Silva, himself facing a graft investigation, will lead a big protest in Rio de Janeiro seeking to whip up popular opposition to impeachment at around the time of Monday's committee vote, expected in late evening.
Rousseff's opponents need 342 votes, or two thirds of the house, to approve impeachment and send the process to the next stage in the upper chamber.
If a simple majority of senators then voted in favor of impeachment, Rousseff would be temporarily suspended from office and Vice President Michel Temer would become acting president pending a six-month trial in the Senate.
Support for impeachment among Brazilians has slipped in recent weeks as Rousseff has stepped up her attacks on what she maintains is an illegal bid by her opponents to unseat her.
According to a survey by pollster Datafolha published Saturday, 61 percent of Brazilians want Rousseff to be impeached, compared with 68 percent in March.
The poll showed 58 percent also want to see Temer impeached, indicating the vice president would have little popular support if he took over from Rousseff.
FOR FREE to continue reading
✔️ Unlock the full content of International Business Times UK for free
offer available for a limited time only
✔️ Easily manage your Newsletters subscriptions and save your favourite articles
✔️ No payment method required
Already have an account?
Log in
© Copyright Thomson Reuters 2023. All rights reserved.