Brazil's Dilma Rousseff Takes Stand In Impeachment Trial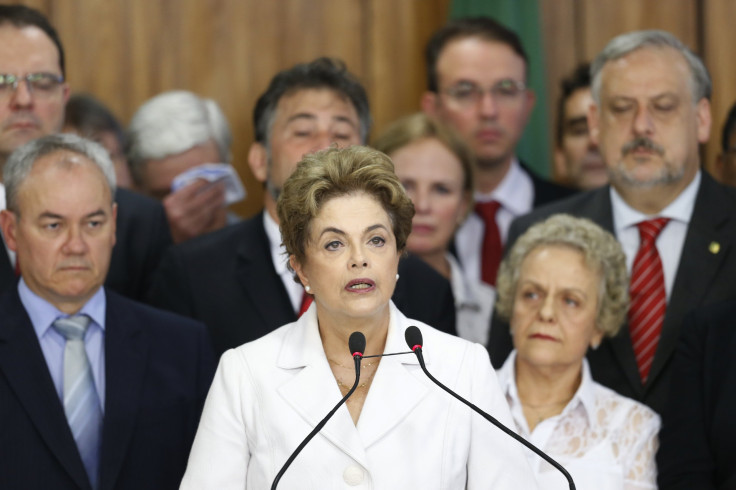 Suspended President Dilma Rousseff will make a last stand in Brazil's Senate on Monday in an impeachment trial that is widely expected to remove her from office and end more than a decade of leftist rule by her Workers Party.
Rousseff, who is being impeached on charges of breaking budget laws, has denied wrongdoing and denounced the nine-month impeachment process that has paralyzed Brazilian politics as a conspiracy to overthrow her and roll back policies that have favored Brazil's poor during 13 years of Workers Party governments.
But a deep recession that many Brazilians blame her for and a huge corruption scandal involving state-run energy company Petrobras [PETR4.SA] have undermined Rousseff's popularity since she was re-elected in 2014.
Her vice president, Michel Temer, has been interim president since mid-May, when Rousseff was suspended after Congress decided it would continue the impeachment process that began in the lower house.
If the Senate convicts Rousseff on Tuesday or Wednesday as expected, Temer, 75, will be sworn in to serve out the rest of her term through 2018. His business-friendly government vows to take unpopular austerity measures to plug a growing fiscal deficit that cost Brazil its investment-grade credit rating last year.
"She will appeal to undecided senators to respect democracy and stop the coup that is under way," a spokesman for Rousseff told Reuters. "She is in good spirits."
In her 30-minute speech, the aide, who spoke on condition of anonymity, said Rousseff, 68, would point to a lifetime fighting for democracy, from her arrest and torture by a military dictatorship for belonging to a left-wing guerrilla group to election as Brazil's first female president.
Twenty of her former Cabinet ministers will support her from the Senate gallery, along with her political mentor and former President Luiz Inacio Lula da Silva, founder of the Workers Party.
With the odds stacked against her, Rousseff's testimony appears to be aimed at making a point for the history books that her impeachment was a travesty rather than a bid to sway the 81-seat Senate to block her eviction from office.
Fifty-four votes needed to convict
Temer is confident he has the two-thirds of the chamber needed to remove Rousseff, and he has planned an address to the nation on Wednesday before heading to China to attend the summit of the G20 group of leading economies.
"We need 54 votes, and we expect to get at least 60," Temer's press spokesman, Marcio de Freitas, told Reuters.
He said the more votes Temer got, the stronger would be his mandate to take the difficult measures needed to restore confidence in Brazil's economy, caught in a two-year recession.
A survey published by O Globo newspaper on Sunday showed 53 senators would vote against Rousseff and only 18 would back her - 10 short of the 28 she needs to avoid being ousted. Ten senators have not stated a position or were not polled.
Even senators not convinced the accounting charges brought against Rousseff warrant her impeachment have decided to vote against her because they see her return to the presidency prolonging Brazil's political crisis.
"I will vote against her even though I think it is a tragedy to get rid of an elected president, but another 2-1/2 years of a Dilma government would be worse," centrist Senator Cristovam Buarque said in a phone interview.
Rousseff has lost her base of support in Congress and can no longer run the country effectively, he said.
Senator Helio Jose, who was the Rousseff government's deputy whip in the Senate, has not declared his vote. But he said in a telephone interview that Temer was doing a good job restoring stability since he took over from Rousseff.
"I don't think the return of President Dilma would be good for the country. Temer has built support in Congress to pass austerity measures we need to recover confidence and draw investment to Brazil," he said.
© Copyright Thomson Reuters 2023. All rights reserved.