Brazil's Rousseff, Mexico's Pena Nieto Targeted By NSA, Glenn Greenwald Says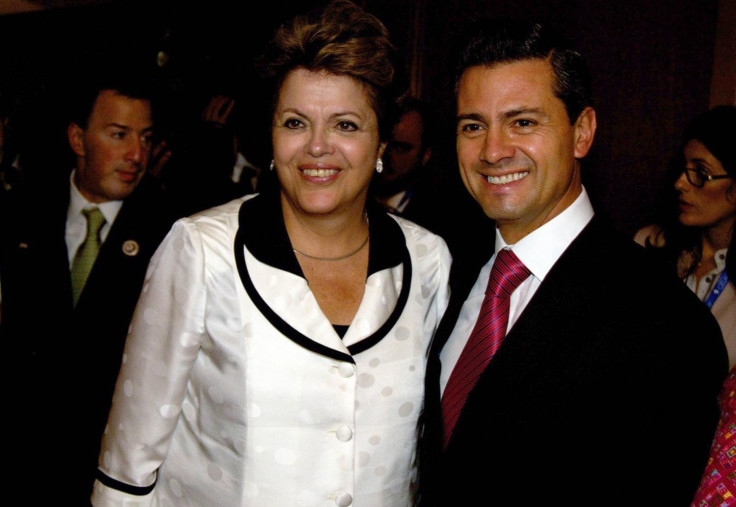 The U.S. National Security Agency, or NSA, snooped on the presidents of Brazil and Mexico, Glenn Greenwald, a reporter for The Guardian, who interviewed Edward Snowden and reported in detail about the U.S. government's surveillance programs, said on Sunday, claiming for the first time that the NSA directly spied on world leaders in their home countries.
Greenwald, who is a U.S. citizen living in Rio de Janeiro, told Brazilian TV channel Globo News that Mexican President Enrique Pena Nieto's emails were intercepted and its contents accessed, according to a document dated June 2012, a month before he was elected president.
The document, however, does not include any intercepted messages from Brazilian President Dilma Rousseff, as is the case with Pena Nieto's, "but it is clear in several ways that her communications were intercepted, including the use of DNI Presenter, which is a program used by NSA to open and read emails and online chats," Greenwald told Associated Press.
Brazilian Justice Minister Eduardo Cardozo told the newspaper O Globo that "if the facts of the report are confirmed, they would be considered very serious and would constitute a clear violation of Brazil's sovereignty."
"This is completely outside the standard of confidence expected of a strategic partnership, as the U.S. and Brazil have," he added.
The latest revelation comes amid tensions between the U.S. and Latin American nations over NSA's surveillance and the issue of political asylum for Snowden. In July, Brazil had demanded clarifications from the U.S. government about reports that NSA filtered millions of emails and phone calls of Brazilian citizens.
O Globo newspaper, at the time, had said that Brazil was one of NSA's prime targets, alongside nations like China, Russia, Iran and Pakistan, despite its cordial relations with the U.S. NSA allegedly monitored communications of Brazilian citizens by partnering with Brazilian telecom firms and U.S. agencies, although the paper did not reveal names of any firms.
There were also reports, in July, that NSA targeted Mexican communications, especially that of Mexico's drug dealers, and Pena Nieto, at the time, had said that such surveillance "would obviously be totally unacceptable."
In early August, it was revealed that the NSA considered Canada, Mexico, Central America and the Caribbean as part of the "homeland," as indicated by a map presented during a Senate Judiciary Committee meeting.
© Copyright IBTimes 2023. All rights reserved.