Brazil's World Cup Stadiums Have Their Problems, But They're The Latest In Green Design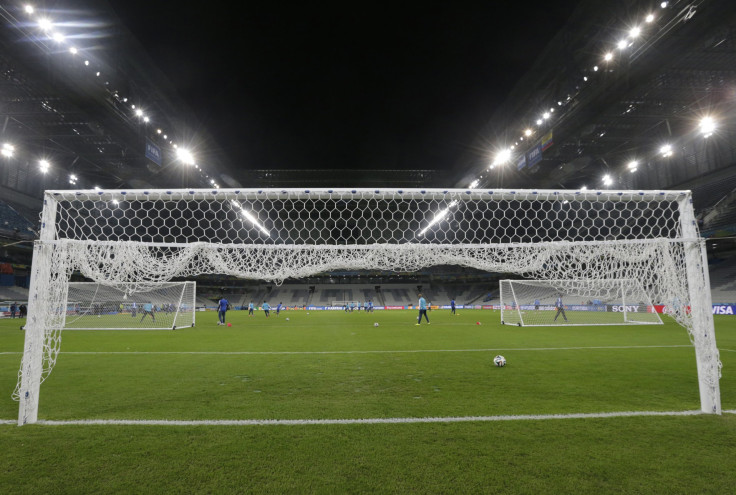 Beyond the infamous delays and cost overruns and the bizarre possibility that one stadium may eventually be converted to a prison, the legacy of Brazil's World Cup venues will likely be more about environmental sustainability than groundbreaking architectural design, according to experts in the field.
Brazil's 12 renovated or new soccer arenas are "a variation on a theme we've seen in international stadium design," observed Chris Lamberth, director of sport development at 360 Architecture, an American design firm headquartered in Kansas City. "These buildings are more green and sustainable. You don't want a fortress with no airflow."
The new and improved soccer venues incorporate greener features to make the structures lighter, brighter and airier, with simple, modern elements like wide concourses for smoother pedestrian circulation and cantilevered roofs for better shading.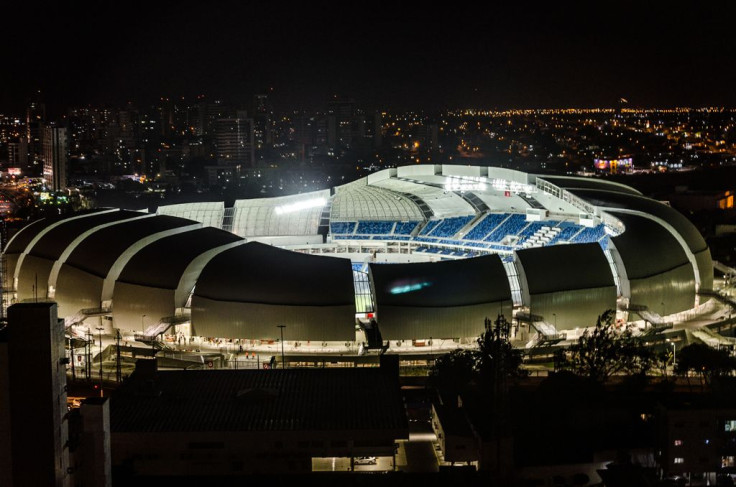 The infrastructure for any major sports event typically incorporates the latest amenities, but that doesn't always mean cutting-edge, as was the case with some of the facilities built in China for the 2008 Summer Olympics. Some innovations involve simple logistics, such as Brazil's use of canopies to shade spectators from the tropical sun and improved transportation systems to accommodate the estimated 3.7 million visitors.
Still, there's no question Brazil's stadiums also look good. In a country where football is a kind of religion, erecting stadiums is tantamount to building cathedrals, with the added complexities of sometimes-violent protests over the huge expenditures in a time of fiscal austerity and FIFA's rigid World Cup standards.
Overall, Brazil spent nearly $4 billion to expand and modernize its soccer infrastructure, with the expectation that many of the stadiums whose capacities far exceed the needs of their host cities' lower-division teams will be underused and therefore too costly to maintain once the World Cup crowds have gone, leaving Brazil with a dozen white elephants in its inventory. There is even talk of one of the stadiums, the Arena da Amazônia in Manaus (which seats 44,000, in a city whose soccer team draws just a few thousand spectators to its games,) becoming a prison.
After South Africa hosted the 2010 World Cup tournament, the country struggled to attract business to its soccer arenas, many of which have required continuing subsidies. Of the six stadiums built from scratch in South Africa, only two are considered financially sustainable.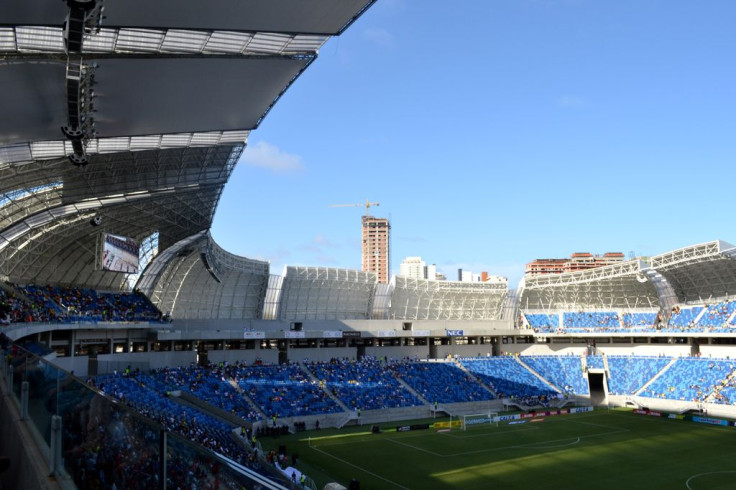 The World Cup presented Brazil with an opportunity to make an impressive leap into modern stadium design. For a country whose major athletic fields were last upgraded in the 1960s and '70s, improvements such as individual seats instead of concrete or bleacher benches, cup holders, more concessions and ample restroom facilities are noteworthy advances. Even having backs on the seats – a safety measure required by FIFA – breaks with the paradigm of Brazil's old stadiums.
"For an American or European, these are just standard," David Lizarraga, a designer and senior associate at Populous, the firm behind one of Brazil's new World Cup stadiums, told IBTimes. "The people in Brazil are not used to that."
Brazil's new stadiums incorporate amenities like VIP suites, improved facilities for the athletes and the press, state-of-the-art scoreboards, Jumbotrons and LED "ribbon" boards (the thin, horizontal screens that usually run along the base of the stands).
"The stadiums are now becoming destinations," Lizarraga said. "That wasn't the case in the past. People went to the game and left right after. Now you can go two hours before the game to tailgate and stay in the stadium two hours after."

Modern stadium designers are also moving toward using new materials such as translucent fabrics to reduce weight and provide shade while still allowing some light to enter the stadium -- features pioneered in the Beijing National Aquatics Center for the 2008 Summer Olympics.
"Many of [Brazil's new stadiums] are quite high-level," said Leonardo Finotti, a Brazilian architectural photographer who photographed several of the stadiums for a project on soccer in Brazil. At first, Finotti said, "I was very pessimistic about the stadiums. But after seeing them, I'm happy."
Among the more impressive is the innovative Estádio das Dunas in Natal, with its canopy of massive aluminum "petals" that evoke the undulations of the nearby coastal sand dunes. Deep louvers in the stadium's shell allow on-shore breezes to enter and cool the seating bowl. The newly minted Arena da Amazônia, located in the heart of the Amazon rainforest in Manaus, is an elaborate steel structure whose frame resembles a woven wicker basket.
"It's great to see different architects interpret different design elements," Lamberth said. "You see different expressions in the skin of these buildings."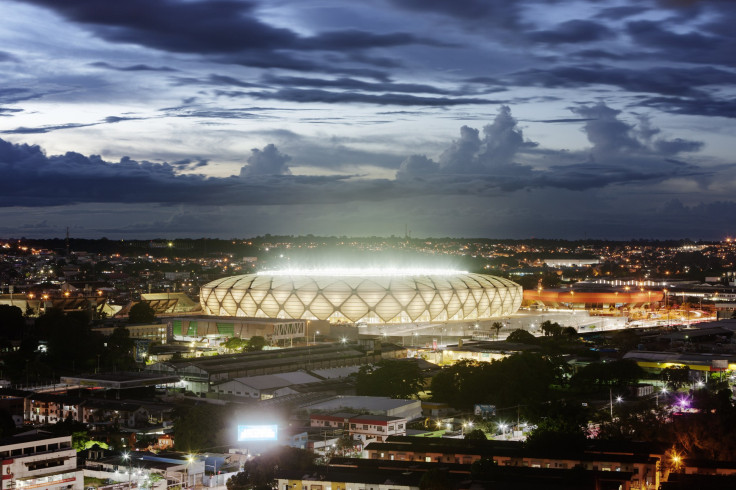 Many existing stadiums were given massive, multimillion-dollar facelifts, including the historic Estádio do Maracanã in Rio de Janeiro, whose two-tier seating bowl was flattened into one level. The Maracanã stadium's concrete roof was also replaced with a Teflon cover that provides shade to 95 percent of the stadium's seats.
"I think that was a tasteful renovation," Lamberth said. "There is a lot more longevity here."
Both the Itaipava Arena Pernambuco in Recife and the Estádio Nacional de Brasília in the country's capital were retrofitted with solar roofs that designers say will continue to generate electricity long after the World Cup games are over.
The national stadium in Brasília, with its multiple rows of vertical white columns, harks back to the designs of famed Brazilian architect Oscar Niemeyer, a pioneer in the development of modern architecture who created several of Brasília's civic buildings.

"The stadium is a kind of a throwback to Brasília's heritage," Lamberth said. "It's great when you can do something that does the culture justice. It definitely screams Brasília."
Whether the stadiums find productive uses after the World Cup ends remains to be seen. But for now, Brazil claims the most up-to-date array of soccer stadiums on the planet, and they illustrate the utility of green features that will likely be replicated in future construction and renovations elsewhere.
"FIFA has been saying for awhile to make stadiums that you can kind of downsize" and use again, Lamberth said. "[Estádio das Dunas] is a great example of that. It has legacy mode."
FOR FREE to continue reading
✔️ Unlock the full content of International Business Times UK for free
offer available for a limited time only
✔️ Easily manage your Newsletters subscriptions and save your favourite articles
✔️ No payment method required
Already have an account?
Log in
© Copyright IBTimes 2023. All rights reserved.