A Breathtaking Fall From Grace: Bo Xilai Expelled From China's Communist Party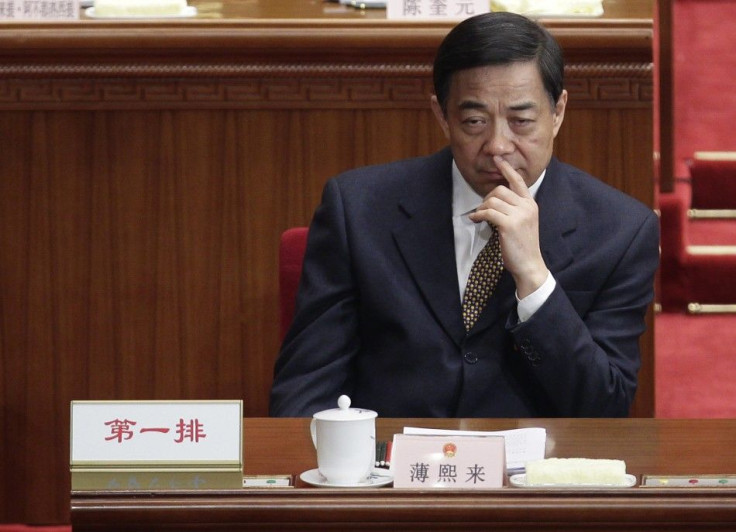 Bo Xilai, once considered a contender for the highest post in the Chinese government, has officially been expelled from the Chinese Communist Party, CCP, and now expects to face justice, according to state media.
Bo, 63, has not been seen in public since March when he was placed under investigation for "serious breach" of party discipline.
In other words, the famously ambitious politician has completely lost his place in the Chinese political arena and is now potentially faces a severe prison sentence for a series of alleged corrupt activities, including bribery, inappropriate nepotism and improper sexual relations with multiple women, as well as improper involvement with the official investigation into his wife's murder charge.
On the same date that it announced Bo's fate, the CCP also said that the 18th National Congress will convene on Nov. 8 to select new leadership for the entire country, namely the Politburo Standing Committee.
Not too long ago, Bo, as a rising political star and the party chief of the city of Chongqing, was considered a prime candidate (along with now-likely heir Xi Jinping) to succeed President Hu Jintao in the supreme position of China's top leader.
Ever since the succession issue surfaced in China as President Hu's 10-year term limit approaches, the power struggle among the Chinese political elite has become more fractious than ever. Numerous names have been tossed back and forth among the press.
After months of rumors, some names dropped off the list, while Xi Jinping and Li Keqiang are now expected to become the president and prime minister of China, respectively, in November.
However, Bo's demise came as a surprise to some, even after his wife, Gu Kailai, was given a suspended death sentence for her involvement in the murder of British businessman, Neil Heywood. Gu confessed to having killed Heywood in August after a monetary dispute led her to believe her son's life was in danger.
As recently as early September, Bo's fate was unclear.
"As it seems now, Bo Xilai might also not be facing any charges at all," Jin-Zhong, editor in chief of Hong Kong's Open magazine, said on Sept. 1.
"Why? Because Gu Kailai's murder trial was completely severed from Bo's image, as never once did the case mentioned his name. ... It can be interpreted that perhaps the case was only going to focus on whether or not she did kill. She did, but he didn't. That has nothing to do with Bo."
Jin-Zhong further commented on China's judicial system, which has been heavily criticized by the Chinese populace on Weibo (a social networking site similar to twitter in China) for being too lenient with Gu.
"Following the Chinese law and the Chinese tradition, a life taken must be repaid by another life. ... Gu is an undeniable killer, and any ordinary citizen having committed her crime would receive a death sentence immediately. We all know that there is no such thing as a 'suspended death sentence' in this world except in China," he said, hinting that officials might very well seek to exonerate the woman after the supposedly two-year suspension expires.
At any rate, Bo's story represents a breathtaking downfall.
In 2007, after gaining a seat in the 25-member Politburo, Bo was reassigned to be the party chief of the southwestern megalopolis of Chongqing city.
Many thought the reassignment would have effectively "banished" Bo from the corridors of power of Beijing. Yet, through a series of local reforms, Bo raised his profile both nationally and internationally by associating himself with Mao.
With the catchy slogan "raising the red and striking the black," Bo's main reforms focused on initiating a series of Maoist-style campaign on socialist ideals and stamping out organized crimes and corruption.
"Many people believed that Bo Xilai was going to repeat the Cultural Revolution and are terrified that the nightmare of history would repeat itself. Many intellectuals and businessmen, especially, are frightened and resentful of his leadership style," Jin-Zhong said when being asked how the public felt regarding Bo's collapse.
"China's leaders have chosen to bury [Bo] by demolishing his career over the last 20 years," Martin Patience, a BBC correspondent in Beijing, commented. "But that runs the risk of raising awkward questions about why ... Bo kept getting promoted and why the party had so little apparent oversight.
"China's leaders want to try and end a scandal that has exposed murder, and cover-up corruption at the highest level of Chinese politics," Patience added.
FOR FREE to continue reading
✔️ Unlock the full content of International Business Times UK for free
offer available for a limited time only
✔️ Easily manage your Newsletters subscriptions and save your favourite articles
✔️ No payment method required
Already have an account?
Log in
© Copyright IBTimes 2023. All rights reserved.