Brewers Overtake Cardinals in NL Series Opener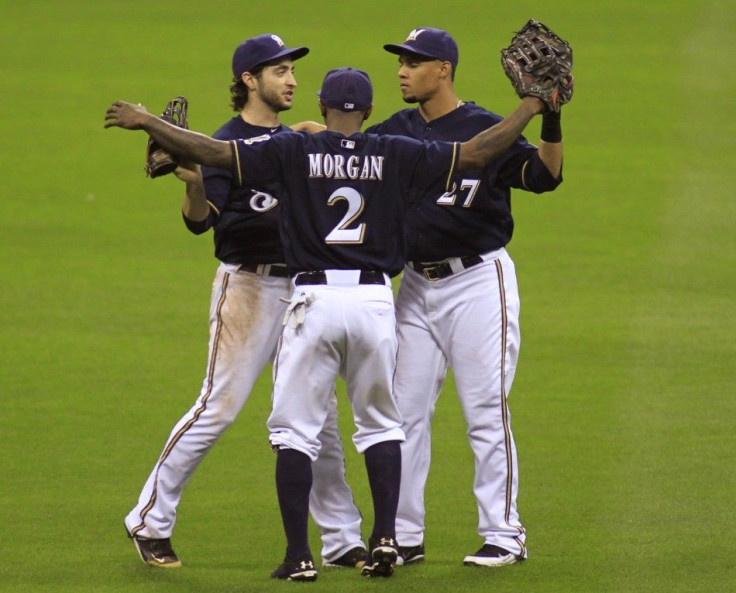 The Milwaukee Brewers flexed their power-hitting muscles to claim a 9-6 comeback victory over the visiting St. Louis Cardinals on Sunday in the opener of the National League Championship Series.
The Brewers fought back from a 5-2 deficit with a six-run, fifth-inning outburst against their Central Division rivals keyed by their celebrated sluggers.
Ryan Braun and Prince Fielder provided the knockout blows with Braun belting a two-run double and Fielder following with a two-run home run off St Louis starter and loser Jaime Garcia that clanged off the wall beyond the bullpen in right-center.
Shortstop Yuniesky Betancourt added another two-run homer for good measure off reliever Octavio Dotel as Milwaukee moved from a three-run deficit into a three-run lead.
That was a nice inning there, said Milwaukee manager Ron Roenicke. To score like we did there, that's outstanding.
Brauny, you know, big double there, drive in two. Followed right behind it with the Prince homer.
After Fielder crossed the plate, he and Braun did their elaborate version of some fancy shadow boxing. That's the one-two punch, explained Braun.
Game Two of the best-of-seven series will be played on Monday in Milwaukee with Shaun Marcum starting for the Brewers against St. Louis starter Edwin Jackson.
TOUGH AT HOME
Zack Greinke, a spotless 11-0 during the regular season at Miller Park, gave up six runs in six-plus innings of work in Sunday's game but registered the win for the home-loving Brewers.
Milwaukee, which had the best home-park record in Major League Baseball at 57-34, won at home for the fourth time without a loss so far this postseason.
While the Brewers lapped up the cheers of the raucous crowd, Cardinals manager Tony La Russa was left to ponder what went wrong for 25-year-old left-hander Garcia.
I thought we competed on the offensive side great all night. I wish we could average six runs a game for the rest of the series, said La Russa, before turning his thoughts to Garcia.
It was a weird inning, because he was really good, and then just three pitches, bam, bam, bam, it was gone, he said. I don't know. I think he's just young. He has to learn.
Aware that there was no love lost between the Central champion Brewers and wild card Cardinals, who have feuded this past season, the umpire warned both benches in the first inning after Fielder was hit in the arm by a pitch following a massive home run by Braun that was measured at 463 feet.
The burly, bearded Fielder had no hard feelings.
He didn't mean to do it, just trying to come inside I guess, he said. Fortunately enough we won the game. That's all that matters.
It's important because it's our home field. We've got to do work at home, plus it's always good to get the first game and hopefully we come out tomorrow and do the same.
Braun's two-run shot pushed the Brewers into the lead after St. Louis scored in their first at-bat when Matt Holliday singled home Jon Jay.
A three-run home run in the fourth by David Freese lifted the Cardinals to a 4-2 lead and they added another run in the top of the fifth on an RBI-single by Lance Berkman before the Brewers came roaring back in their half of the fifth.
© Copyright Thomson Reuters 2023. All rights reserved.