BRICS Kiss Euro Goodbye, Dump Foreign Exchange Reserves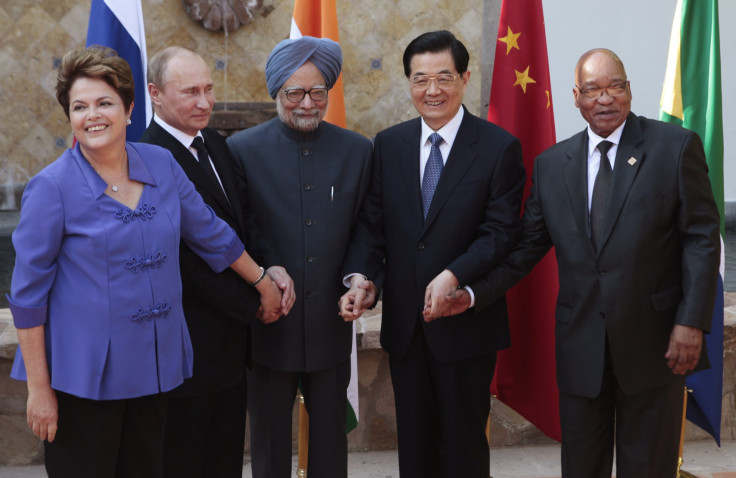 The world's emerging and developing economies, including the BRICS nations (Brazil, Russia, India, China and South Africa), have been dumping their foreign exchange holdings of the euro, diminishing its status as a world reserve currency.
According to the International Monetary Fund's latest report on foreign exchange reserves, developing nations shed about $46.5 billion in euro holdings in 2012 and have unloaded nearly $89 billion since the second quarter of 2011.
These figures suggest a growing lack of confidence in the euro among these countries as the European Union deals with an ongoing debt crisis.
"The effects of the euro crisis will linger, growth will be slow, interest rates will remain low, and the general attractiveness of euro assets low," said Edwin Truman, senior fellow at the Peterson Institute for International Economics in Washington, the Financial Times reported.
The euro now only accounts for about 24 percent of allocated reserves held by the 109 IMF member states designated as "emerging" or "developing" economies, the lowest such figure since the euro first came into circulation in 2002, and down from its 2009 peak of 31 percent.
The flight of these countries from the euro comes as the BRICS nations continue to flex their growing economic clout.
Last week, during the most recent BRICS summit in South Africa, the group of five announced it plans to establish a global development bank that aims to compete with the World Bank in financing infrastructure projects in developing countries, particularly within Africa.
The BRICS hold some $4.4 trillion in foreign exchange reserves, and the new bank would provide it with more control over the use and investment of its capital.
© Copyright IBTimes 2023. All rights reserved.