Bristol Palin, Dakota Meyer Update: Ex-Fiancé Remains Silent About Baby News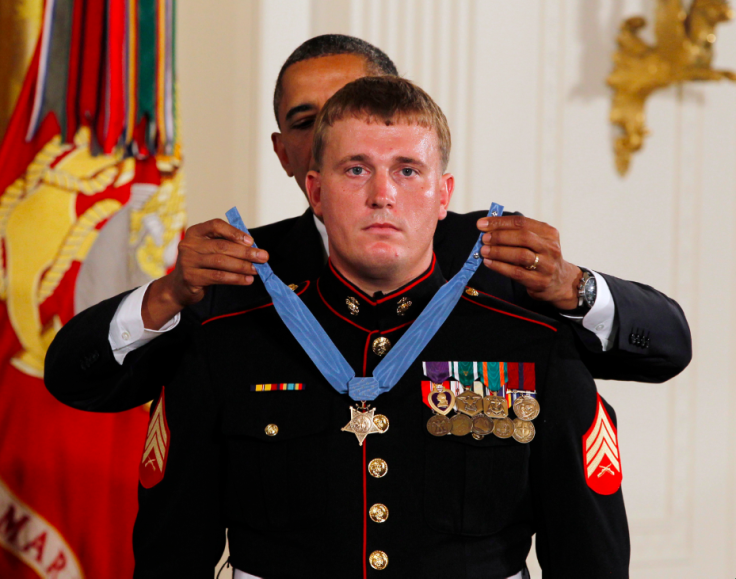 Is Dakota Meyer the father of pregnant Bristol Palin's unborn child? It's a question some people would like answered after the daughter of Sarah Palin, the former Alaska governor, announced she was pregnant with her second child. Some people find her announcement hypocritical since she's made thousands as an abstinence spokesperson.
One of the recent things Palin's ex-fiancé, a decorated U.S. Marine, tweeted about was having a "strong work ethic." Meyer shared a picture of a quote that read, "Many of the great achievements of the world were accomplished by tired and discouraged people who kept on working!"
He regularly shares inspiring quotes on his verified Twitter page, where he has more than 65,000 followers, but never said anything about his split from Palin.
It's unlikely he would talk about the baby news on his social media page. Especially since Meyer never issued a statement about his breakup with Palin. On the same day that his ex-fiancée's mother took to Facebook to say their Memorial Day weekend wedding was called off, Meyer shared a "Morning Motivation" quote.
"Before anything else, preparation is the key to success. --Alexander G. Bell," he wrote. It clearly has nothing to do with a breakup or heartache.
"Bristol and Dakota couldn't be more thankful for the love and support of family and friends over the past months while preparing for their wedding," Sarah Palin wrote May 18. "They have informed loved ones that unfortunately the announced celebration planned for May 23 will not be held."
It was a short engagement. Two months earlier, Bristol announced via Instagram, according to Us Weekly, that the two would tie the knot. "Truly the luckiest girl in the world, cannot wait to marry this man!!!!"
Meyer, 26, wrote the book "Into The Fire." He also received the Medal of Honor from President Barack Obama in 2011 after he "repeatedly braved enemy fire in eastern Afghanistan to find and save fellow members of his embedded training team … without regard for his own personal safety," his website states.
Bristol, 24, has not shared any further updates since she posted her "big news."
Follow me on Twitter @mariamzzarella
© Copyright IBTimes 2023. All rights reserved.