Britain And Ecuador Back Off From Assange Confrontation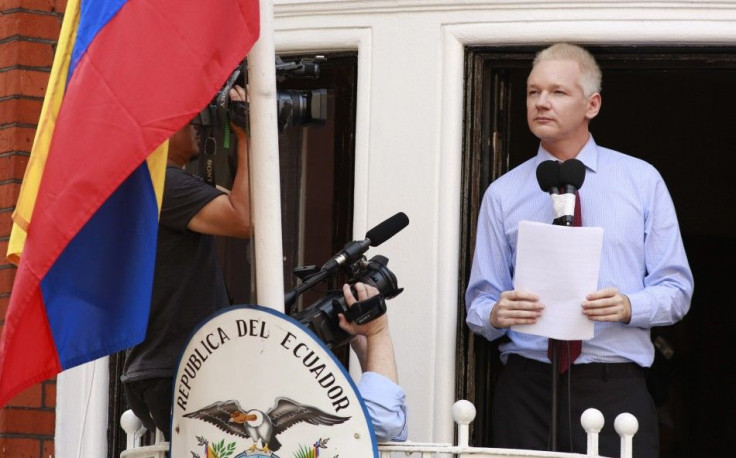 Britain said Sunday it was still committed to reaching a diplomatic solution with Ecuador over the presence of WikiLeaks founder Julian Assange in the country's London embassy, after both sides took steps to defuse the standoff.
Assange has been living in the embassy's cramped quarters for more than two months since fleeing there to avoid extradition to Sweden, where he is wanted for questioning over rape and sexual assault allegations.
Ecuador President Rafael Correa said Saturday that Britain had withdrawn a threat to invade the embassy to arrest Assange, to whom Ecuador has granted asylum, and that he now considered the "unfortunate incident" over, Reuters reported.
He was responding to a British assurance that it was not threatening the embassy and that Britain was committed to the Vienna Convention, which protects the inviolability of diplomatic premises.
"We remain committed to the process of dialogue we have entered into and we want that to resume with the government of Ecuador," a British Foreign Office spokeswoman said.
Britain said it had not meant to threaten Ecuador, a plea that left Correa unmoved until it sent Ecuador a formal communication on Thursday confirming that the embassy was safe.
The communication was copied to diplomats at a meeting of the Organization of American States in Washington on Friday which discussed the spat.
A British diplomat attending the meeting invited Ecuador to resume "constructive discussions" on Assange, the Foreign Office said. "We believe that our two countries should be able to find a diplomatic solution," the unnamed diplomat added, according to a transcript issued by the Foreign Office.
Britain says it is determined to fulfill a legal obligation to send Assange to Sweden.
Correa responded by saying in a weekly address Saturday: "We consider this unfortunate incident over, after a grave diplomatic error by the British in which they said they would enter our embassy."
The OAS had condemned the British threat, and South American foreign ministers backed Correa's position that Britain's warning was unacceptable and could set a dangerous precedent.
In a statement Sunday, reported by the BBC, the British Foreign Office said it remained "committed to the process of dialogue we entered into in good faith some weeks ago. We invite the government of Ecuador to resume, as early as possible, the constructive discussions we have held on this matter to date."
It also reiterated a statement made in a letter sent to the Ecuadorean embassy on Friday that said "at no time has the UK government made any threat against the embassy of Ecuador.
"Respect for, and compliance with, international law is at the heart of the conduct of the foreign policy of the United Kingdom."
In Quito, around 50 protesters gathered outside the British Embassy Sunday morning, the Global Post reported.
"Assange, amigo, Ecuador esta contigo," ("Assange, friend, Ecuador is with you") they chanted in the center of the city as members of the group spray painted a sign that read "Death to imperialism.
And in an interview with the Sunday Times of Lonodn, Correa said the allegations in Sweden against Julian Assange would not be crimes in nearly every other country.
Correa said the sex crime allegations against the WikiLeaks founder were "not a crime in Latin America" and had played no part in his decision to grant Assange asylum.
He also denounced the British government for its "contradictions" in wanting to extradite Assange to Sweden, when it did not extradite former Chilean dictator Augusto Pinochet after his 1998 arrest in London on an international arrest warrant issued by Spanish judge Baltasar Garzon -- who is now heading Assange's legal team.
"The crimes that Assange is accused of, they would not be crimes in 90 to 95 percent of the planet," Correa told The Sunday Times.
"Not to use a condom in an act between a couple, this is not a crime in Latin America. But I don't want to get any more into this, this has been irrelevant to the decision taken by Ecuador. And we're all in agreement that Julian Assange should go to the Swedish justice system."
© Copyright IBTimes 2023. All rights reserved.
FOLLOW MORE IBT NEWS ON THE BELOW CHANNELS