British Carrier Strike Group On Edge Of South China Sea, 2 Ships To Be Deployed Permanently
KEY POINTS
Other vessels in the strike group are already there
So far, there has been no statement from China
Britain will also deploy two warships permanently in Asian waters
On its maiden operational deployment, U.K's Queen Elizabeth Carrier Strike Group (CSG 21) is on its way to the South China Sea, after completing military drills with the Indian Navy in the Bay Of Bengal.
While HMS Queen Elizabeth is on its way to the disputed waters, other vessels in the strike group are already there ahead of the warship, reported USNI News.
While Type 45 guided-missile destroyer HMS Defender is docking at Muara Naval Base in Brunei, replenishment tanker RFA Tidespring has left Singapore and headed out to the South China Sea. Nuclear attack boat HMS Artful was also spotted traveling through the Singapore Strait and heading to the South China Sea on Sunday, said data from the Automatic Identification System (AIS).
Other members of the carrier group include Type 23 anti-submarine frigates HMS Richmond and HMS Kent, RFA Fort Victoria, U.S. destroyer USS The Sullivans, Dutch frigate HNLMS Evertsen, U.S. Marine Corps Fighter Attack Squadron (VMFA)-211, and Royal Air Force's 617 Squadron 'The Dambusters.'
The strike group partially disaggregated following the conclusion of Exercise Konkan with the Indian Navy.
According to the report, AIS data shows Fort Victoria traveling down the Malacca Straits ahead of the group, comprising Kent, The Sullivans and Evertsen. Queen Elizabeth is seen closely behind the three escorts. The ships have already passed the lower end of the Malacca Strait, the report added.
The strike group will sail through the South China Sea amid China's increasing bid to monopolize the waters. However, British Defence Secretary Ben Wallace had earlier insisted that the country was not looking for "confrontation" but "will exercise its right to freedom of navigation."
So, far China has not responded to the presence of the carrier group in the disputed waterways. However, reports say any military drills on the South China Sea may prompt statements from Beijing.
The Carrier Strike Group's plan is to interact with more than 40 nations on the deployment through the Mediterranean, Indian Ocean, and the South China Sea to Japan, thereby project Britain's military capabilities.
Meanwhile, Britain has announced that it would deploy two warships permanently in Asian waters after the carrier group sails to Japan through the disputed waterway. This comes as the UK is deepening its ties with Japan, amid the latter's recent territorial conflicts with China.
"Following on from the strike group's inaugural deployment, the United Kingdom will permanently assign two ships in the region from later this year," Britain's defense minister, Ben Wallace, said in a joint announcement on Tuesday in Tokyo with his Japanese counterpart, Nobuo Kishi.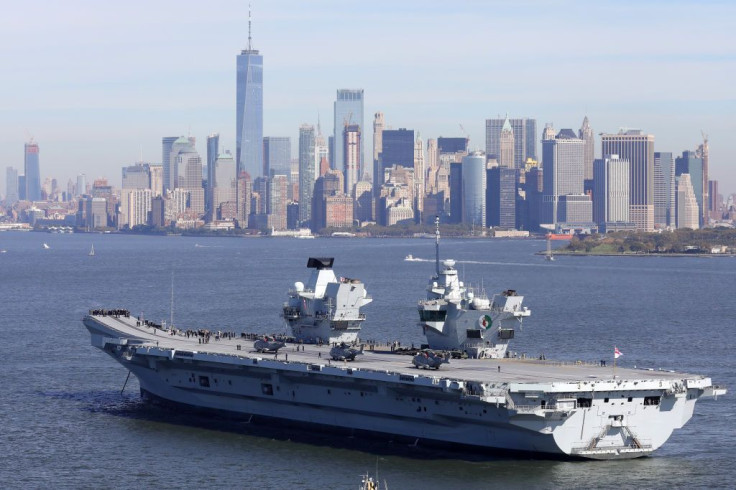 © Copyright IBTimes 2023. All rights reserved.