100 Vaccinated Royal Navy Crewmembers Infected With COVID Onboard The HMS Queen Elizabeth Warcraft
About 100 fully vaccinated crewmembers onboard the Royal Navy's HMS Queen Elizabeth aircraft carrier have been infected with COVID-19 as they make their way through a 28-week global deployment tour.
The BBC reported the aircraft carrier is leading the Carrier Strike Group that has several other warships accompanying it.
The 100 cases of COVID-19 are being managed on the ship, with other ships in the fleet also affected by the virus, the BBC was told. The London Evening Standard also confirmed the outbreak.
Defence Secretary Ben Wallace told the BBC that the deployed crewmembers had all received two doses of the COVID vaccine. About 3,700 personnel are part of the Carrier Strike Group, according to the the news outlet..
The HMS Queen Elizabeth is now entering the Indian Ocean and is set to continue its voyage to Japan later this year.
Last year, the Royal Navy's HMS Northumberland returned to shore and isolated after crewmembers were suspected to be infected with the virus.
The HMS Queen Elizabeth departed in May for its Carrier Strike Group, with eight RAF and 10 U.S. Marine Corps F35B stealth fighter jets onboard. It is being accompanied on its tour by six Royal Navy ships, a submarine, 14 naval helicopters, and a team of Royal Marines.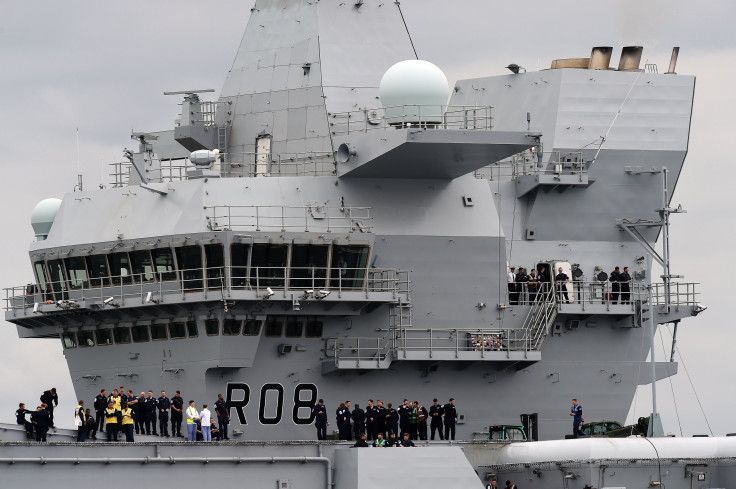 © Copyright IBTimes 2022. All rights reserved.
FOLLOW MORE IBT NEWS ON THE BELOW CHANNELS