Broadcast Of Video Saturday Sparked Rage, But Security Was Not Beefed Up, Officials Say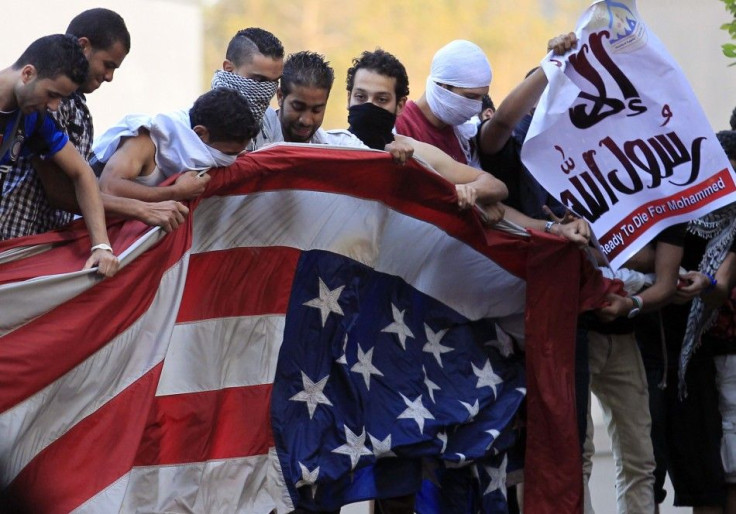 U.S. officials said Thursday they believe an Arabic talk show last Saturday showing parts of an anti-Muslim video was the spark that set off violent attacks on U.S. missions in Libya and Egypt, but acknowledge the broadcast did not prompt a major upgrade in diplomatic security, Reuters reported.
On Tuesday, four Americans, including Ambassador Christopher Stevens, were killed in an attack on the American Consulate in Benghazi, Libya, that U.S. officials said may have been planned by one or more militant factions using the "innocence of Muslims" video as a pretext. On the same day, protesters in Cairo breached the U.S. Embassy's walls, and the protests have since spread to other countries, including Yemen, Bangladesh and Kuwait.
An Egyptian TV network, al-Nas, broadcast last Saturday what its presenters called extracts from an English-language film denigrating the Prophet Mohammad, which it said had been uploaded to YouTube by "migrant Coptics," a reference to emigre members of Egypt's large Christian minority.
The clips broadcast on al-Nas were taken from a short film available on the Internet. It is called "Innocence of Muslims," and portrays the Prophet -- played by what appears to be a young American actor -- as a womanizer, thug and child molester. The cast and crew have said they were duped and the offensive dialogue was dubbed later.
Three U.S. officials told Reuters the broadcast did not prompt strong warnings from intelligence agencies or the State Department of possible threats to U.S. diplomatic missions in the Islamic world.
One official, like the others speaking on condition of anonymity, said there was at least one specific warning about possible unrest that was circulated within the government, but was not so alarming as to lead to a major upgrade in security for a possible emergency.
The lack of a major response may show how difficult it is for officials to assess threats that first emerge on social media. The threats can come out of nowhere and snowball overnight.
The events also underline the role of the Middle East's freer media, loosened from state restrictions after the fall of longtime dictators.
"The number of potentially inflammatory things that are said or broadcast every week (is so large) ... that warning about all of them would be useless," Paul Pillar, former top U.S. intelligence analyst for the Middle East and South Asia, told Reuters. It was "impossible to predict" the kind of violent reaction that occurred in Libya, Egypt and elsewhere.
One U.S. official said, "You can't freak out on everything that's broadcast."
© Copyright Thomson Reuters 2023. All rights reserved.