Broncos-Bengals 2014: TV Channel, Live Stream Info, Prediction For Final 'Monday Night Football' Game Of The Season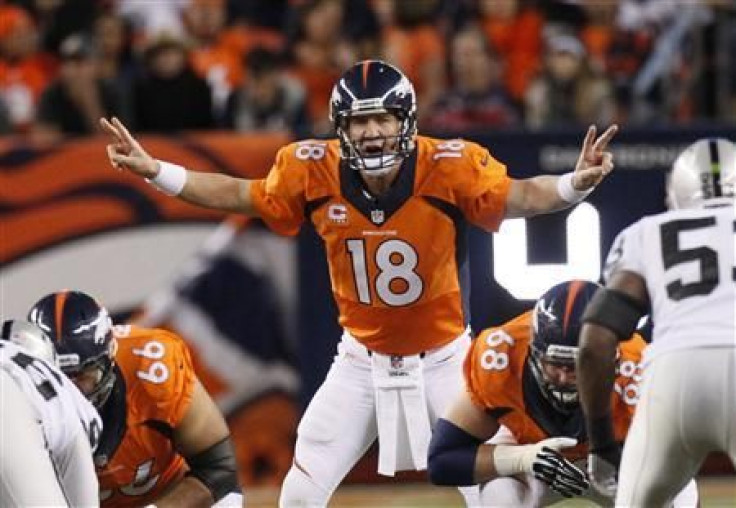 The Cincinnati Bengals (9-4-1, 4-2-1 home) are in search of a playoff berth when they host the Denver Broncos (11-3, 4-3 away) at Paul Brown Stadium in the final "Monday Night Football" game of the 2014 season. The Broncos, who have already locked up the AFC West division crown, are still in contention for a first-round bye and home field advantage.
Should the Broncos win their final two games against the Bengals and Oakland Raiders, and the New England Patriots fall to the Buffalo Bills, Denver will be the No. 1 seed in the AFC. It's a highly coveted position for a team with serious hopes of returning to the Super Bowl.
The Bengals can reach the postseason with a win over the Broncos, and can capture the AFC North crown with a win over the Pittsburgh Steelers game at Heinz Field. The Bengals could still make the playoffs as a wild card with two losses, but would need the Baltimore Ravens to lose to the Cleveland Browns and the San Diego Chargers to lose to the Kansas City Chiefs.
"We know these next two games are going to be big," said quarterback Andy Dalton. "The way our division is going, everyone keeps winning ... We know what we are facing. They are really important."
The Bengals trounced the Browns last week, 30-0, and have won four of their last five games. Marvin Lewis's defense has allowed an average of just nine points a game in their past four wins.
The Broncos have won their last four games by an average of 8.7 points a game, and against strong competition. Denver defeated the Miami Dolphins, Kansas City Chiefs, Buffalo Bills, and San Diego Chargers – all AFC teams with records above .500.
Peyton Manning is expected to be active, according to CBS Sports, despite being listed as questionable with a thigh injury. Wide receiver Emmanuel Sanders is also expected to suit up for Denver.
The Bengals are looking to reverse their fortunes in prime-time games. In a Sunday night game on Oct. 5, the Patriots blew out the Bengals, 43-17. In a Thursday night game on Nov. 6, the Bengals fell to the Browns, 24-3.
TV Channel: ESPN
Online Stream: Watch ESPN
Point Spread: Broncos by 4 points
Over/Under: 48 points
Prediction: Denver over Cincinnati, 31-24
© Copyright IBTimes 2023. All rights reserved.