Brooklyn Nets Logo, Merchandise Leaked On Twitter [PHOTOS]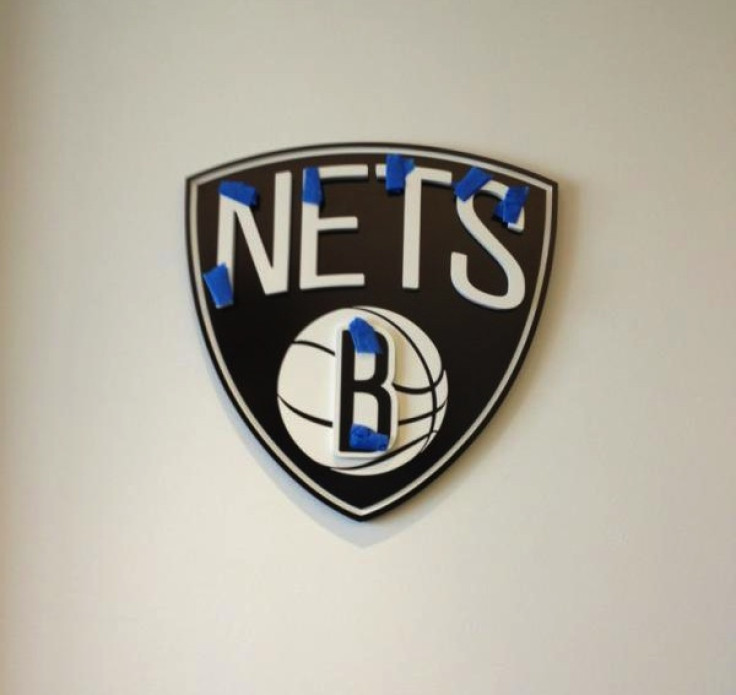 The Nets will officially move from New Jersey to their new home in Brooklyn, N.Y., on April 30, and the team's management has kept information regarding the new Brooklyn Nets logo and merchandise on a tight lock, but a photograph of what looks like the new official logo leaked on Wednesday, April 25 on Twitter four days ahead of the move. MediaTakeOut.com has also posted pictures of what they claim are the first snapback cap with the new Brooklyn Nets logo on it.
The photo displays the shield shaped logo taped up to a wall and was leaked online by a man claiming to be employed as an IT worked at the still-under-construction Barclays Center in downtown Brooklyn. The picture was quickly picked up by deadspin.com and then spread online.
According to the NY Post , multiple sources outside the Nets organization have confirmed that this is the Brooklyn Nets new logo.
The logo is a clever update on the current New Jersey Nets logo, but with a distinct Brooklyn style to it. The team's name is still placed above a basketball, but a large B like the one worn on the Brooklyn Dodgers caps is placed at the center of the ball.
The teams current colors (red, silver, white and navy blue) have been replaced with a monochrome back and white.
Whether the photo marks the intentional start to a viral marketing campaign or an actual leak is still unknown. An ad campaign has already begun in NY with posters displaying a white shield outline on top of a black background with the Twitter hastag #HELLOBROOKLYN. This vague image supports the possibility that the new leaked picture is the real deal.
Bleacherreport.com seems to think the leaked photo is the real thing, but noted that we won't be 100 percent sure until Monday, though they expect the real thing to be pretty close and also predict that the Brooklyn Nets new colors will be black and white as well.
Rapper Jay-Z who is a part-owner in the team, will play a series of eight concerts at the new basketball arena this Fall to kick off the Brooklyn Nets first season in New York. The arena's official open date is Sept. 28, 2012.
The 41-year-old rapper confirmed last year that the Nets would not be changing their official name for the move, despite complaints by many that it is none of the most generic team names in the NBA.
The Brooklyn Nets 2012-2013 season will begin with plenty of luxury. All-access season passes are already on sale for up to $15,400 and over half the arena's 100 private all already spoken for.
© Copyright IBTimes 2023. All rights reserved.