Brooklyn Nets News: Dwight Howard Trade Rumors Return Kris Humphries To Spotlight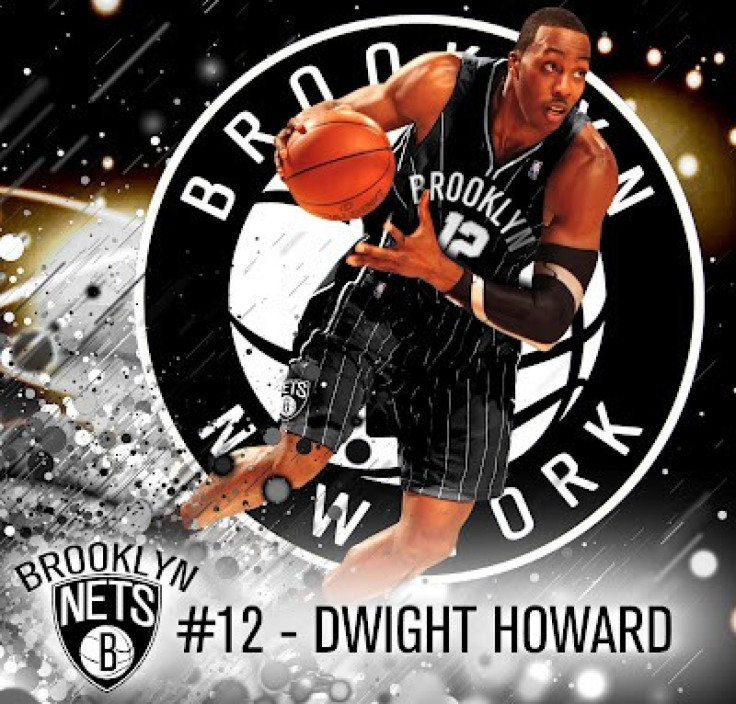 On Monday, it appeared that the Dwight Howard saga, which has played out on a national stage for over a year would be reaching its conclusion soon. However, like any melodramatic finale, there appear to be a few surprise twists along the way.
According to Yahoo's Marc Spears, a potential trade that includes over 10 players and four teams which would send Howard to the Nets is contingent upon free agent power forward Kris Humphries agreeing to a multi-year sign-and-trade contract with Cleveland that would guarantee only one season. However, according to Humphries' agent, Dan Fegan, his client is seeking a multi-year guaranteed contract.
Humphries' role as the linchpin in Brooklyn's acquisition of Howard is just the latest unexpected star turn for Humphries, who was a relative unknown during the first seven years of his career. That all changed after the 27-year old married reality television star Kim Kardashian in August 2011.
Humphries' 72-day marriage ended before the NBA's 82-game regular season was scheduled to begin but his role in the Howard trade has extended his 15 minutes of fame to a half-hour special.
In the aftermath of his failed marriage Humphries was voted the 'Most Disliked Player in the NBA' according to a survey of fans conducted by Nielsen and E-Poll Market Research. In his first pre-season game after the lockout, Humphries was booed vociferously by New York Knicks fans.
However, the boos directed at Humphries in Manhattan won't compare to the vitriol he'll face from Brooklyn fans if he becomes known as the player who kept Howard from turning their team into a title contender.
The cruel irony is that Brooklyn declined to offer Humphries a multi-year contract last summer for the sole purpose of saving money, which they could use to sign Howard as a free agent this summer. Since that time, Howard opted in to the final year of his contract and Humphries' value has risen slightly after the 27-year old forward averaged a double-double for the second straight year.
Nets head coach Avery Johnson should be familiar with the controversy that often surrounds the completion of a blockbuster trade. Four years ago, Johnson's Mavericks were pursuing then-New Jersey Nets point guard Jason Kidd. After weeks of speculation, the Mavericks cobbled together a deal that involved point guard Devin Harris and a few expiring contracts and role players.
However, at the 11th hour, the trade fell through when small forward Devean George took advantage of an obscure Bird Rights clause for players with one-year contracts that allowed him to veto the trade.
I never thought I'd be in the position to throw the league in a frenzy, George said in February of 2008, I didn't know I'd have that power.
Ultimately, Kidd for Harris exchange was restructured without George courtesy of a few expiring contracts and retired small forward Keith Van Horn, who signed a three-year contract with just one guaranteed year. Van Horn never played a minute for Dallas. In both the Kidd and Howard trade sweepstakes the Los Angeles Lakers have been the franchise on the outside looking in.
While Dallas won a championship last June, the Nets haven't returned to the playoffs since the Kidd trade and in 2010, they threatened the 82-game record for fewest wins. Last February, Brooklyn acquired star point guard Deron Williams by trading Harris along with Derrick Favors and two first round draft picks to Utah.
However, the longer that this deal stays on the table, the more difficult it will be to finalize. NBA franchises are usually wary of stagnant trade standoffs that linger in the national media and if the Nets don't act soon, the Cavaliers may move on.
Humphries has no allegiance to this deal as well and could decide to walk in free agency. Humphries has Bird Rights with the Nets, however, because he won't receive a max contract offer from anyone, a fifth year is irrelevant to him. Like Devean George, he's a journeyman forward who's got to make every dollar he can.
The Cleveland Cavaliers facilitating this potential trade is remarkable considering owner Dan Gilbert's aversion to super teams. Two summers ago, he was on the other end of LeBron James' decision to form a super trio with Dwyane Wade and Chris Bosh in Miami.
Besides being a fan of strongly worded letters, it's also possible he is a fan of the ancient proverb, which 'states that the enemy of my enemy is my friend'. With Howard in the post, Brooklyn would immediately be viewed as an instant challenger to James and Miami in the Eastern Conference.
This isn't the first time that the balance of power in the NBA doesn't rest on the shoulders of a league superstar. It won't be the last. Complex, multi-team blockbuster trades are when role players get their shine.
The Nets will be unable to acquire the league's three-time Defensive Player of the Year without Humphries' cooperation. NBA fans and experts have known for a while that Humphries was a great rebounder, but until Monday. nobody knew he had the ability to box out Dwight Howard from entering the Barclays Center's home locker room...Until now. The Nets already have an All-Star backcourt but their immediate future rests is in the hands of Kris Humphries.
© Copyright IBTimes 2023. All rights reserved.
FOLLOW MORE IBT NEWS ON THE BELOW CHANNELS