Brooklyn Nets' Woes Continue With Top Stars Likely Moving To New Teams
KEY POINTS
Kyrie Irving and Kevin Durant could possibly move to new teams
Durant is miffed with the Nets on how they are handling the Irving situation
The Warriors are allegedly open to possibly reuniting with Durant once more
This offseason, there is a high chance that the Brooklyn Nets will lose two of their big stars.
Most already heard about the alleged discussions between the Nets and the Los Angeles Lakers, a trade involving Kyrie Irving and Russell Westbrook.
But tied to that, it appears Kevin Durant could follow suit.
Just last week, word got out that the two-time NBA Most Valuable Player has allegedly requested a trade.
In the report by Adrian Wojnarowski of ESPN, Nets general manager Sean Marks is allegedly working with Durant and business manager Richard Kleiman on a potential trade.
Furthermore, Durant has two preferred teams as his potential next destination–the Miami Heat and Phoenix Suns.
However, this would depend on whether either team could give Brooklyn a good deal.
It would be best to note that with Durant still having four years in his current contract, there may be no shortage of teams willing to unload assets for the two-time NBA champion.
One can only look at the performance of Brooklyn last season.
Despite having Durant and Irving, not to mention having Ben Simmons on the sidelines, Brooklyn was unceremoniously booted out of the 2022 NBA playoffs by the Boston Celtics.
Add the soured relationship of Irving and the 30-year-old's potential move to Los Angeles, it seems evident that Durant is unhappy and would want to bring his talent elsewhere.
The entire picture shows an unsalvageable situation over in Brooklyn and hence the request of Durant to be traded, Howard Beck of Sports Illustrated pointed out.
So unless a reversal or a reconciliation happens, the Nets could find themselves facing a major overhaul with its top stars jumping ship.
Curiously, one team that is reportedly trading for Durant is his former team–the Golden State Warriors.
This is according to Marc J. Spears, claiming that the Dubs have an interest in possibly reuniting with the 12-time All-Star.
Should this be true, it remains to be seen who the Warriors would give up to welcome back Durant, who played for Golden State from 2016 to 2019.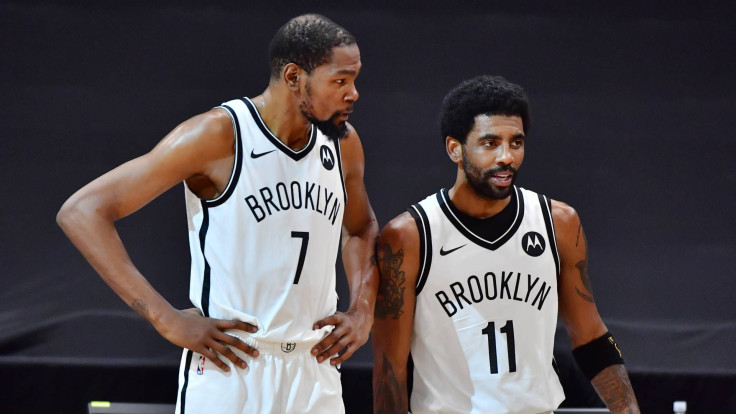 © Copyright IBTimes 2023. All rights reserved.