Bruno Mars Won't Get Paid For His Super Bowl Halftime Performance, Joining Madonna, Beyonce And Other Acts The NFL Has Never Paid For Their Super Bowl Shows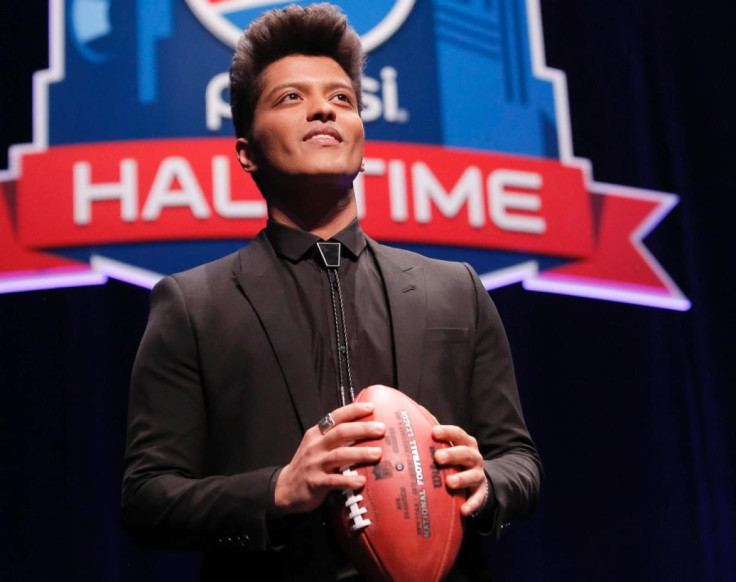 Superstar singer-songwriter (and drummer!) Bruno Mars whipped up quite a performance during the Super Bowl halftime show Sunday night, in front of an audience that was predicted to top 100 million -- but the singer-songwriter didn't make a dime for his 12-minute gig.
Mars, known for chart-toppers such as "Locked Out of Heaven" and "Grenade" and "Locked Out of Heaven," and who appeared with the Red Hot Chili Peppers during a flamboyant, arguably excellent halftime show, will not receive any payment from the National Football League for his mini-gig, , Time reported. As it turns out, the NFL has never paid any acts who have performed during the Super Bowl halftime show -- and that goes for Paul McCartney, Michael Jackson, the Who, Madonna and Beyoncé.
"We're putting someone up there for 12 and a half minutes in front of the largest audience that any television program garners in the United States," NFL Director of Programming Lawrence Randall, said to Time magazine in 2013. "It's a pretty good deal. It's the famous win-win for both parties."
The Super Bowl is actually the largest gig, in terms of an audience, any artist will ever get to play. Beyoncé's performance in 2013, in which she was joined by her fellow Destiny's Child group members, attracted about 104 million viewers. In 2012, Madonna got a 112.5 million-person audience when she performed a medley that also spotlighted LMFAO, Cee Lo and M.I.A.
The enormous exposure a Super Bowl half-time artists get has led to significant sales boosts for the performers: For Beyoncé and Destiny's Child, album sales soared 40 percent, according to information from Billboard, the week after last year's big game. And the jump in sales has even been more pronounced for veteran rockers, like the Who -- after its 2010 halftime show, one of its greatest hits albums more than doubled in sales, Time reported.
© Copyright IBTimes 2023. All rights reserved.
FOLLOW MORE IBT NEWS ON THE BELOW CHANNELS