Brussels Attacks Live Updates: Belgium Hunts Down Suspects Involved In Triple Bombings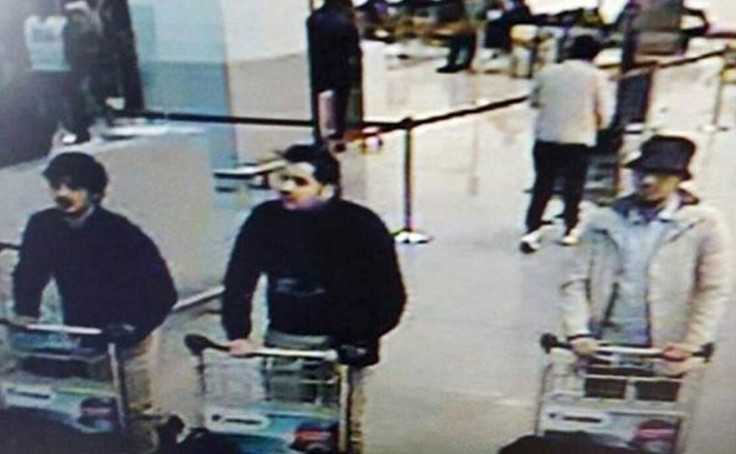 UPDATE: 4:42 p.m. EDT — Demonstrators in Brussels have made homemade signs and are offering free hugs to spread a message of peace after Tuesday's terror in the European city. There were also signs that read: "Love Beats Hate!" and "Don't Give Up to Hate!"
UPDATE: 4:30 p.m. EDT — The Brussels attacks were horrible, but they could have been worse. A leading explosives specialist said the terrorists who carried out Tuesday's airport and subway bombings had enough raw materials to make at least 10 more large bombs.
The men had access to 150 liters of acetone and 30 liters of oxygenated water, which could be used to make about 50kg of the homemade explosive triacetone triperoxide (TATP). That's the weapon that was also used in the Paris attacks last November.
Sidney Allford, who has helped the British army defuse Taliban bombs in Afghanistan, said the bombs are easy to make. "You don't need to be a chemist. You can make a large quantity in an afternoon, dry it out and have it ready," he told the Guardian.
UPDATE: 4:10 p.m. EDT — More than 1,000 airline passengers are stuck in Brussels waiting for a flight out, NBC News reported Wednesday. The travelers are being housed in a makeshift shelter at a large event space on the outskirts of the city.
There were cots, food, drinks and blankets from the Red Cross, but many passengers were growing frustrated with the temporary shelter.
"I felt like a refugee," said Jacek Makowski, who was stranded when his flight to Madrid got canceled. "Only cold water, no showers, you can only brush your teeth — nothing more. ... It's good to have a place to stay overnight but it wasn't comfortable."
UPDATE: 3:54 p.m. EDT — A number of U.S. citizens remain unaccounted for after Tuesday's Brussels attacks, Mark Toner, a deputy spokesman for the State Department, told reporters Wednesday.
"Our own internal U.S. government accountability is ongoing ... and we're making every effort to account for the welfare of both chief-of-mission personnel as well as U.S. citizens in the city," Toner said.
He added: "In terms of State Department or U.S. government personnel ... we still have not accounted for every official U.S. government employee or their members – or family members on the ground" in Brussels.
UPDATE: 3:42 p.m. EDT — Social media users have been sharing British singer Adele's tribute to the Brussels attack victims. Adele performed "Make You Feel My Love" during her concert Tuesday night at London's 02 arena. "This is for Brussels," she said.
UPDATE: 3:32 p.m. EDT — Brussels residents are searching for their missing loves ones as officials struggle to identify the dead from Tuesday's bombings. The missing include David Dixon, a computer programmer from Nottingham, who never arrived at work yesterday and is thought to be the only Briton still missing since the attacks; and Sabrina Fazal, 24, a nursing student and Belgian national who was on the subway when the terrorists struck, the BBC reported.
UPDATE: 3:01 p.m. EDT — Hillary Clinton urged Americans to pursue a responsible fight against terrorists Wednesday and turn away from her Republican rival, Donald Trump. Her campaign to win the White House has moved West, and Clinton described her vision for national security in a wide-ranging speech at Stanford University in California.
"We can't let fear stop us from doing what's necessary to keep us safe — nor let it push us into reckless actions that make us less safe," she said after a news cycle that has seen Trump call for embracing torture tactics and blame Muslims for terrorism.
"We cannot contain ISIS. We must defeat ISIS," she said, noting that the U.S. needs to support Europe in its war against terrorism.
UPDATE: 2:47 p.m. EDT — Pope Francis called on "all people of goodwill" Wednesday to condemn Tuesday's terrorist attacks in Brussels, which he called "cruel abominations that are causing only death, terror and horror." The pontiff said he hoped God would "convert the hearts of these people blinded by this cruel fundamentalism."
The pope's remarks came during his weekly general audience in St. Peter's Square in the Vatican and just a day before he is expected to wash the feet of a dozen young refugees — mostly non-Catholics — at an asylum center in a town north of Rome to celebrate Holy Week, the New York Times reported.
"By washing the refugees' feet, Pope Francis is asking for respect for each one of them," a Vatican official, Archbishop Salvatore Fisichella, wrote in the Vatican's newspaper, L'Osservatore Romano, Wednesday.
Many anti-immigration critics in Europe and the U.S. have sought to link terrorism in Europe to Muslim refugees fleeing war in Syria and other countries.
UPDATE: 2:33 p.m. EDT — Flights to and from the Brussels airport will resume Friday, according to a tweet from the its verified Twitter account. Travelers are being encouraged to contact their airlines for information concerning specific flights. Previously it had been reported that the airport would reopen Wednesday afternoon before the airport announced earlier Wednesday that flights would be suspended until further notice.
UPDATE: 2:18 p.m. EDT — DNA evidence has confirmed that Najim Laachraoui, one of the suspected perpetrators of Tuesday's terror attacks in Brussels, was the second suicide bomber in two explosions at Zaventem airport, French newspaper Le Monde reported. Laachraoui, who had previously been reported at large, allegedly served as one of the coordinators of the Paris attacks in November 2015.
UPDATE: 2:01 p.m. EDT — Turkish President Recep Tayyip Erdoğan said Wednesday his government had detained Brussels bombing suspect Ibrahim el-Bakraoui in June 2015 before deporting him. Erdoğan said Turkish authorities identified him as a militant and that Belgium had ignored Turkey's warnings by later releasing him after finding "no links with terrorism," Reuters reported.
Turkey has been hit by several terrorist attacks in recent months, including one in the capital of Ankara on March 13 that left at least 37 dead. Erdogan had warned Europe last week of a growing terror threat, the Washington Post reported.
"There is no reason for the bomb which exploded in Ankara not to explode in Brussels, where an opportunity to show off in the heart of the city to supporters of the terror organization is presented, or in any city in Europe," the Turkish leader said Friday.
El-Bakraoui and his brother Khalid were known to Belgian authorities for criminal acts. The former was sentenced to nine years in prison in 2010 for shooting a police officer during a robbery, while the latter was arrested for having Kalashnikovs in his possession in 2011. Khalid el-Bakraoui was also involved in a carjacking.
UPDATE: 1:40 p.m. EDT — Secretary of State John Kerry is set to travel to Brussels in a show of support for the country following deadly coordinated bombings in the Belgian capital. John Kirby, the State Department spokesman, said Kerry will "formally express the condolences of the United States for the loss of life."
At least 31 people were killed Tuesday when three suicide bombers targeted an airport and subway station. At least 200 people were wounded in the attacks, for which the Islamic State group, aka ISIS, claimed responsibility.
UPDATE: 1:19 p.m. EDT — The person who drove the subway train that was targeted by a suicide bombing Tuesday in Brussels has already returned to work, a reporter from BBC News tweeted. The news about the driver, whose name was not immediately available, was confirmed by the driver's employers.
UPDATE: 12:58 p.m. EDT — One of the men who participated in the terror attacks Tuesday in Brussels had previously been caught in Turkey, Turkish President Recep Tayyip Erdoğan said Wednesday, according to the Associated Press. Without identifying the particular assailant, Erdoğan added that Turkey took the man into custody in June before ultimately deporting him to the Netherlands.
According to a tweet from a journalist at ABC News, Turkey detained the man on the border with Syria before alerting Belgian officials of the pending deportation of the "foreign fighter" in July.
UPDATE: 12:37 p.m. EDT — U.S. President Barack Obama offered condolences Wednesday to Belgium and especially Brussels for "the scourge of terrorism" that it has had to deal with recently. Speaking from Argentina, where the president was marking the 40th anniversary of a military coup there, Obama pledged to "go after Islamic State aggressively" to remove it from Syria and Iraq, from where the group has inspired others to launch acts of terror across the globe and most recently in Brussels. The terrorist organization, aka ISIS, claimed responsibility for Tuesday's terror attacks in Brussels that left at least 34 people dead and dozens more injured.
According to a series of tweets from CBS White House correspondent Mark Knoller, Obama also blasted Republican presidential candidate and Texas Sen. Ted Cruz, who has called for "carpet bombing" ISIS in Syria and Iraq. The president called that proposal "inhuman" and one that would have the opposite effect and spur ISIS recruiting.
.@POTUS says @tedcruz's surveillance proposal "makes absolutely no sense" and is "contrary to who we are" https://t.co/8XWlH37JXA

— MSNBC (@MSNBC) March 23, 2016
The EU's justice and security ministers are also set to meet Thursday for an impromptu session concerning the Brussels terror attacks, Reuters reported. The Dutch EU Council presidency confirmed the meeting, according to a tweet from a European journalist.
Additionally, there are plans to symbolically project Belgium's national flag across various sites in London, according to a tweet from London Mayor Boris Johnson.
UPDATE: 11:47 a.m. EDT — Belgian King Philippe and Queen Mathilde visited a Brussels hospital Wednesday where victims were recovering from the terror attacks one day earlier. The attacks, claimed by the Islamic State group, left at least 34 people dead and some 200 injured.
Paris Mayor Anne Hidalgo was seen at a public memorial in Brussels paying homage to the dead and wounded.
UPDATE: 11:23 a.m. EDT — The Dutch military is expected to beef up weaponry along its borders as a response to Tuesday's terror attacks in Brussels that left at least 34 people dead and some 200 more injured. The sites in question where Dutch forces will pay most attention include government ministries, Parliament and Jewish institutions, Reuters reported.
Meanwhile, in the U.S. capital of Washington, D.C., Vice President Joe Biden and his wife, Jill, signed a condolence book Wednesday at the Belgian embassy there. Immediately afterward, Biden told the media that the U.S. is offering its resources to Belgium to aid its fight against terrorism.
Vice President Joe Biden hails the "incredible courage of the Belgian people," saying, "They will prevail" #Brussels https://t.co/4W9pgl5Iys

— CNN Politics (@CNNPolitics) March 23, 2016
"On behalf of the president, I can say that we are prepared to provide any and all information capability, technology, anything we have that can be value added to their fight," Biden said. "They will prevail."
UPDATE: 11:05 a.m. EDT — Tuesday's terror attacks in Brussels show how much work the European Union has to do in order to fortify its terrorism-fighting efforts, the French prime minister said Wednesday. In particular, the group must devote significant investments to those efforts, he said.
"In the coming years, EU nations will have to invest massively in their security system," French Prime Minister Manuel Valls said, according to the Associated Press.
UPDATE: 10:29 a.m. EDT — The Brussels airport will remain closed while the investigation into Tuesday's terror attacks there are taking place, according to a tweet from the airport. It had previously been reported that the airport would reopen at 4 p.m. local time Wednesday.
UPDATE: 10:10 a.m. EDT — The criticism of Belgian authorities by French Finance Minister Michel Sapin has been blasted by people in France and Belgium, according to a new report. The minister questioned Belgium's ability to protect its borders, blaming its apparent succeptibility on "naivety," the Daily Star reported.
"I think there was a will, or a lack of will, on the part of some [Belgian] authorities ... perhaps also a kind of naivety," Sapin said Tuesday, adding: "[Belgians] thought that to encourage good integration, communities should be left to develop on their own."
Sapin continued by comparing Belgium's response to terror to that of his own country. "But we know, and France perhaps knows better than others, that this is not the right answer," Sapin said. "When a neighborhood is in danger of becoming sectarian, we should [implement] a policy of integration."
In response, French Prime Minister Manuel Valls said in part that now is not the time "to lecture our Belgian friends."
A Belgian politician shared a similar sentiment. "It is indecent when people are suffering, are in shock. We need solidarity, not lectures," said Laurette Onkelinx, a Socialist.
UPDATE: 9:44 a.m. EDT — Belgian authorities have found a will belonging to Brussels terror attacks suspect Ibrahim El Bakraoui on a computer. The computer was discovered in a trash can on the street during a raid in the Schaerbeek neighborhood of Brussels with a note from El Bakraoui, saying he felt increasingly unsafe and feared going to jail, the Associated Press reported.
Police have raided a number of properties in Schaerbeek, following a tipoff from a taxi driver who apparently drove three men suspected of attacking Brussels' airport Tuesday, Belgian news site HLN reported.
UPDATE: 9:02 a.m. EDT — French Prime Minister Manuel Valls met with his Belgian counterpart, Charles Michel, Wednesday to lay a wreath in honor of the 34 victims of Tuesday's terror attacks. "Everywhere in Europe, including in France, we have closed our eyes to the progression of extremist Salafism in the neighborhoods that mix drug trafficking and a radical, perverted Islam," Valls told Europe 1 radio, adding: "I'm not here to give lessons to the Belgians."
[Live] Belgian prosecutor confirms: 31 fatalities & 270 injured in #Brussels attacks https://t.co/QGpCZRI8rm

— euronews (@euronews) March 23, 2016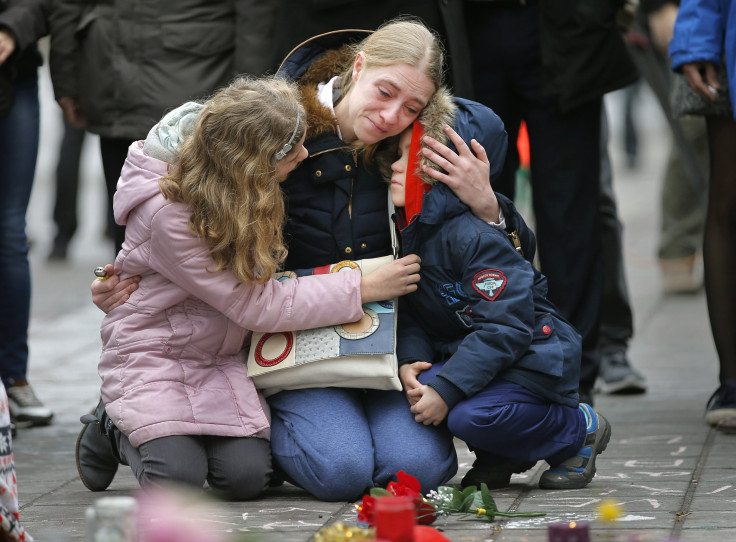 UPDATE: 8:22 a.m. EDT — Belgium's federal prosecutor confirmed during a televised press conference Wednesday that Najim Laachraoui, a prime suspect in the Brussels attacks, has not been arrested. Belgian authorities said they are still searching for another suspect implicated in the twin bombings at Brussels Airport.
It had been reported Wednesday that Laachraoui, whose image was caught on closed-circuit surveillance footage at the airport before the separate bombings there Tuesday, was arrested. Those reports were later disputed before Belgian prosecutor Frédéric Van Leeuw announced that the suspect was indeed still at large.
UPDATE: 8:18 a.m. EDT — Khalid and Ibrahim El Bakraoui, the brothers suspected of carrying out suicide bombings in Brussels on Tuesday, allegedly wanted revenge for the arrest of Salah Abdeslam, the key suspect in last year's deadly terrorist attacks in Paris, according to French TV station TF1.
Original story:
A suspect in the Brussels terror attacks who was arrested Wednesday morning was not Najim Laachraoui, some Belgian media are now reporting after retracting reports that said he had been seized in the southwest Anderlect suburb. Belgian newspaper DH, which first reported the story, said the detainee had been misidentified.
Belgian authorities have declined to comment but will hold a news conference at noon GMT (8 a.m. EDT).
Laachraoui, 25, was named as a prime suspect in Tuesday's triple bombings at the international airport and a city metro station that left more than 30 people dead and over 200 others wounded. Laachraoui was spotted on CCTV footage at Brussels airport wearing a white jacket and hat not long before twin blasts tore through the main terminal in Zaventem, some 7 miles from Brussels. He was previously known to authorities by his alias, Soufiane Kayal, and is also suspected of having links to the November terrorist attacks in Paris, which killed 130 people, according to state broadcaster RTBF.
Authorities have also identified two brothers suspected of carrying out two of the bombings in Brussels. Ibrahim El Bakraoui is the suspected suicide bomber at the airport, while Khalid El Bakraoui allegedly detonated at the Maelbeek metro station during morning rush hour Tuesday. The identity of the second suicide bomber at the airport was not yet clear.
The Islamic State group, also known as ISIS, claimed responsibility for Tuesday's attacks through its affiliated news agency, Amaq. The Islamic militant group said its fighters carried out "a series of bombings with explosive belts and devices" and also opened fire at the airport, according to the Guardian. ISIS has also claimed responsibility for the terrorist attacks in Paris.
Check back here for the latest updates on the investigation into the Brussels terrorist attacks and the manhunt for suspects.
© Copyright IBTimes 2022. All rights reserved.
FOLLOW MORE IBT NEWS ON THE BELOW CHANNELS