Brussels Terror Raid Update: Belgian Police Officers Injured As Paris Terror Suspect Still At Large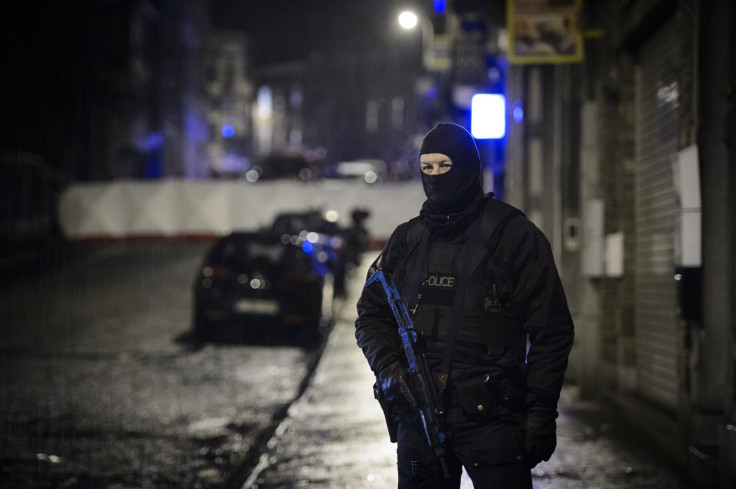 UPDATE: 12:02 a.m. EDT – Counterterrorism police shot dead one gunman in a Brussels apartment Tuesday during a raid linked to last year's Paris attacks that killed 130 people.
"One suspect armed with a Kalashnikov-type assault rifle was killed in an assault" by police, the federal prosecutor's office said in a statement, Agence France-Presse reported, adding that officers were "actively pursuing investigations, day and night."
Four police officers were injured during the operation. The dead man has not been identified so far but prosecutors reportedly said that it was not Salah Abdeslam, a key suspect in the Nov. 13 attacks in Paris, which were claimed by the Islamic State group.
UPDATED: 1:30 p.m. EDT -- As a counterterrorism police operation near the Forest neighborhood of Brussels continued into the evening Tuesday, authorities announced that a fourth officer involved in a raid was injured. One of two suspects sought by police was "neutralized" after an exchange of fire, local media reported.
The raid was part of an ongoing effort to capture suspects in the Paris attacks which killed 130 people last November. Militants affiliated with the Islamic State group in Iraq and Syria claimed responsibility for the gun and bomb attacks.
UPDATE: 1:15 p.m. ET -- Forest, a French-Belgian neighborhood in Brussels, was flooded with law enforcement Tuesday after police launched a series of counter-terrorism raids that left three officers injured and resulted in every access road being blocked, BBC News reported.
The police operation, reportedly targeting two alleged suspects in the Paris terror attacks last November, appeared to be focused on Rue de la Station Road in Brussels. Bernard Cazeneuve, France's interior minister, confirmed that French police officers were also participating in the Brussels raid.
Surya Jonckheere, a local resident, told the BBC that there was a lot of confusion among residents in the area. "The police are just saying something's happened on the road," she said. "They're focused on that rather than telling people what's going on."
UPDATE: 12:15 p.m. ET -- According to a report by a French-Belgian public broadcasting service, one of the suspects in the 2015 Paris terrors was neutralized during a counterterrorism raid in Brussels Tuesday evening. Details about the identity of the suspect have not been released.
The raid, carried out by Brussels police, left three officers slightly injured, according to Associated Press. Authorities said the police raid targeted two alleged suspects from the Paris attacks.
Original story:
With one of the suspected co-conspirators in last year's terror attacks in Paris still on the loose, Brussels police carried out a counterterrorism raid Tuesday that left three officers slightly injured, the Associated Press reported. The officers were injured after shots rang out during the raid in the Belgian capital, according to an unnamed police official.
That official could not give specifics about the raid – including the circumstances of the police action or whether the officers were struck by bullets or injured in another way – because the operation was still ongoing. European media outlets reported that the counter-terrorism raid took place in the Forest neighborhood of Belgium, which is close to Molenbeek, home to several people involved in the Nov. 13, 2015, attacks on Paris that left 130 people dead.
Since those attacks, Belgian police have been trying to track down Islamic State group militants connected to the shootings and suicide bombings. Eric Van Der Sypt, a spokesman for Belgium's federal prosecutor, told the Agence France-Presse news agency that "police were fired at" during the raid Tuesday afternoon.
Latest pictures show anti-terror operation taking place in Brussels suburb of #Forest https://t.co/cBqSFOjFLw https://t.co/8hxzmdcIMn

— BBC Breaking News (@BBCBreaking) March 15, 2016
Major police operations were under way in the area, with at least two suspects as the focus of the action, the BBC reported.
In January, French police identified 25-year-old Chakib Akrouh, a Belgian-Moroccan man, as one of the people killed during raids in the Parisian suburb of Saint-Denis days after IS group-coordinated attacks. A series of 22 raids carried out late November in Belgium resulted in the arrest of 16 individuals around Brussels. The key subject of Belgium's national manhunt, Salah Abdeslam, was not caught.
Following a shooting in #Brussels one person says city is on high alert but not in lockdown https://t.co/R8jfm19L1D https://t.co/q0le9sSAjw

— Sky News (@SkyNews) March 15, 2016
The 26-year-old Abdeslam, named by CNN as "France's Most-Wanted Man," was the suspected driver of the black Renault Clio that carried three suicide bombers to the soccer stadium in Paris.
Belgium Overview | FindTheData
© Copyright IBTimes 2022. All rights reserved.
FOLLOW MORE IBT NEWS ON THE BELOW CHANNELS