Bryce Harper Explains Benefits Of 13-Year $330M Deal, Begins Recruiting Process
Bryce Harper joined the Philadelphia Phillies on Feb. 28 but it was not a decision that was made in haste. The right-fielder was the most sought after free agent in baseball this offseason and it was one of the most highly anticipated free agency decisions in recent years.
The 26-year-old was courted by numerous franchises and while the Phillies were always among the frontrunners for Harper's signature there were doubts in the days leading up to the decision after the Los Angeles Dodgers and San Francisco Giants made late offers.
Harper finally brought an end to the saga by signing a 13-year deal worth $330 million with the Phillies. A deal that includes no opt-out and full no-trade clauses, which means he will be a Philly until the end of the 2031 season.
The outfielder is keen to bring the World Series back to Philadelphia and to attract the best players to Citizens Bank Park in the coming seasons. Mike Trout is considered the best player in Major League Baseball at the moment and he enters free agency in 2021 and Harper has made it clear he will do his all to bring him to Philadelphia.
Harper was not concerned about tampering rules and already put forward the pitch he will give the Los Angeles Angels center fielder in 2020 when he was set to enter free agency. The Phillies' newest recruit believes his 13-year deal gives him the opportunity to recruit the best players.
"If you don't think I'm going to be calling Mike Trout in 2020 to have him come to Philly, you are crazy," Harper said on SportsRadio 94WIP. "I think that is one thing about this contract that I am able to do. Having 13 years in a place, I am able to help recruit guys to the organization."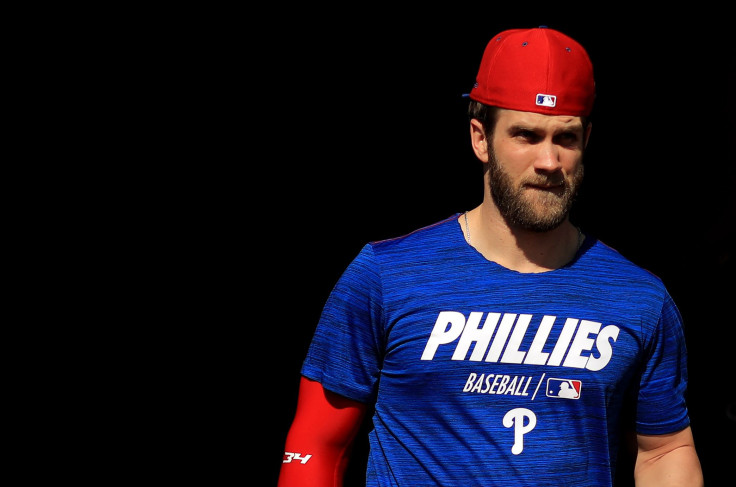 "For me, I can be able to talk to Trout, or whoever it is, big-name free agent or whoever wants to come to Philly or is thinking about coming to Philly, I can say, 'Hey, this is the place to be. This is where the fans are great, ownership understands it, our manager is awesome,'" the Phillies outfielder added.
"I can really put that faith in myself in being able to say we are able to go about it the right way, we are the Philadelphia Phillies and we want whoever wants to come to Philly. If you don't want to come to Philly, then don't come. Don't be part of it. But if you want to come be part of a winning team and a winning culture, then we are going to need the best players to do that. I don't think [owner] John [Middleton] is scared to go out and get the best guys we need to have," he added.
Harper also revealed that he spoke to Trout throughout his free agency while contemplating which franchise will be best suited for the next stage of his career. The Angels center fielder is a Philadelphia Eagles fan and is said to keep a home in Philly. The former Washington Nationals star was keen to get a feel of the city and the fans.
"I talked to him a lot," Harper said after his first press conference, as quoted by the New York Post. "From November, all the way through the process. … I played with him in the [Arizona] Fall League [in 2011], and we've kept in contact over the last seven years. But just trying to get a hometown kid to tell me what he felt, how he felt about the organization and the area and things like that. He's a kid who grew up seeing the Phillies have success, so going through those times with the fans and things like that. It was good to get his perspective and hear how he felt."
© Copyright IBTimes 2023. All rights reserved.