Bryce Harper, Manny Machado Rumors: Dodgers, Yankees, Phillies, Cubs Still In Pursuit Of Top Free Agents?
The wait continues for the blockbuster signings of Bryce Harper and Manny Machado. Prior to the start of the 2018 season, there was ample talk about where the two sluggers would end up but with the winter meetings wrapping up weeks ago there have been no real signs of where either will land.
Most reports peg the Los Angeles Dodgers as the frontrunners to land Harper. Team president Andrew Friedman recently traded away outfielders Yasiel Puig and Matt Kemp while opening up payroll space to land the 26-year-old.
Harper, who lives in Las Vegas, recently "liked" an Instagram post that asked if the Dodgers are the favorites to sign him. He later "unliked" it but for many observers the damage was done.
The Dodgers reportedly want to sign Harper but not for a long contract, though he can be offered an unprecedented average annual value of $40 million.
The Philadelphia Phillies, Chicago Cubs and Chicago White Sox are also among the favorites to sign Harper.
Baseball insider Jon Heyman recently said on the MLB Network that the Cubs may take a closer look than the Dodgers at signing Harper.
The New York Yankees, who always seem to be in the market for a power hitter, are also in the mix.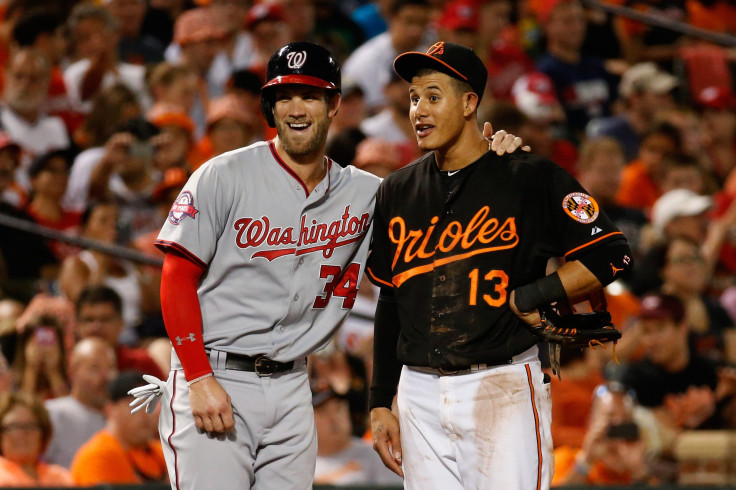 The Yankees and Phillies appear to be the leading contenders to sign Machado. The Yankees have a need on the left side of the infield, while Phillies owner John Middleton has given plenty of indication that the team is interested in spending big this offseason.
Machado met with the Yankees on Dec. 19 and has played nearly his entire career in the American League East.
Speculation over Machado's future team has even come from obscure sources. Baseball writer Dan Clark, not considered among the more notable insiders when it comes to free-agent signings and trades, posted on Twitter that Machado will join the Yankees in early January.
© Copyright IBTimes 2023. All rights reserved.