Bryce Harper Rumors: Phillies, Nationals, White Sox Face A Bid From A New Team?
When the San Diego Padres recently threw their hats into the Bryce Harper Sweepstakes it was a sign that this bizarre free-agent offseason was even stranger than most baseball observers could have imagined. Now another team is joining the circus and it appears that they are serious about landing the superstar slugger.
San Francisco Giants president of baseball operations Farhan Zaidi dropped a bomb Friday when he said that there is "obviously mutual interest on both sides" with the Giants and Harper's camp meeting in Harper's hometown of Las Vegas.
"We thought it made sense to get together," Zaidi said Friday. "We had a good conversation over a few hours. He's obviously got a lot of suitors and a lot of interest. He's going to have some decisions to make. I think it's fair to say that was an expression of our interest level, to make the trip out there to meet with him.
"You don't make a trip out there to meet with a player just for show."
Zaidi was joined by Giants' president and CEO Larry Baer and manager Bruce Bochy in the meeting with Harper at the Bellagio Hotel. Bochy called the meeting "great."
It is quite clear that Harper would be a dramatic upgrade to a Giants outfield that includes Chris Shaw, Steven Duggar and Mac Williamson, who combined for 289 at-bats in 2018. The Giants' big addition in 2018 was Andrew McCutchen, who had a .772 OBP in San Francisco and was dealt at the end of August.
"There's something to be said for having that kind of leadership and experience," shortstop Brandon Crawford said about adding Harper, a six-time All-Star.
At the moment, the Giants seemed to be competing with the Padres, as well as the Philadelphia Phillies, Washington Nationals and Chicago White Sox. There is still an outside chance that two deep-pocket teams — the Los Angeles Dodgers and New York Yankees — could sweep in with a late bid.
Yankees outfielder Aaron Judge recently said he would change positions if Harper signed with New York.
There is also the curious case of the other prized free agent: Manny Machado. Many believe that the first of the two superstars to sign will provide a clear indication of the market value for the other.
Spring Training begins on Feb. 21.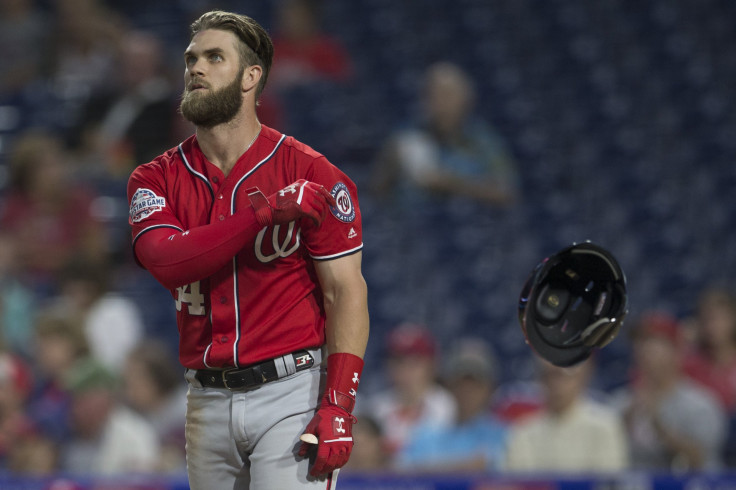 © Copyright IBTimes 2023. All rights reserved.