Buddhists In Bangladesh: Peaceful Community Caught In Vortex Of Ethnic, Religious Violence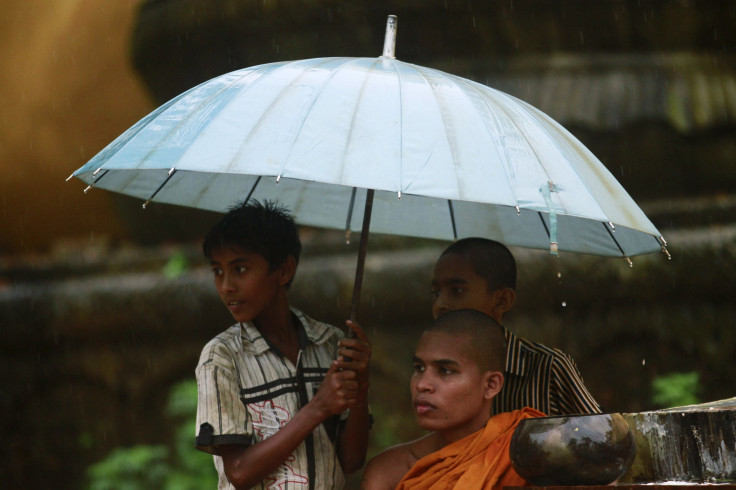 Four months after a rampage by Muslims in Bangladesh destroyed their temples and homes, thousands of Buddhists in this country are still trying to pick up the pieces of their shattered lives.
Those bloody clashes, which made scores of Buddhists in this overwhelmingly Islamic state homeless, were allegedly triggered after the Facebook account of a Buddhist youth organization posted an image insulting to the Quran, the Muslim Holy Book. (A later probe into this incident showed the youth group in question had nothing to do with the questionable image.)
Nonetheless, even the whisper of blasphemy was enough to spark Muslims to attack their Buddhist neighbors.
Shashanko Barua, a Buddhist who lost his home in the chaos last October in Cox's Bazaar in southeastern Bangladesh, described his nightmarish experience to BBC.
"The mob first destroyed our temple and looted everything," he said.
"Then they targeted our houses. We had to run, as I was worried that my teenage daughters could have been [sexually] abused. I am still scared to go out to work. I don't want to go too far to find work as I feel unsafe."
While attacks on Hindus have been somewhat common in Bangladesh, violence against the tiny Buddhist community has been rare. Indeed, there have been no reports of violence directed at Buddhists since 1966, when the elopement of a Buddhist boy with a Muslim girl sparked communal clashes.
Numbering between 1 million and 1.5 million, Buddhists represent less than 1 percent of Bangladesh's population.
Following the disturbances last autumn, the Bangladesh government deployed army forces to guard and protect various Buddhist temples across the country. Prime Minister Sheikh Hasina also called for the reconstruction of all damaged homes and temples.
However, an unidentified local Buddhist community leader in Cox's Bazaar said some of the Muslim rioters and looters were prominent political figures.
"There were people from all the major political parties among the rioters," he told BBC.
"Some were local leaders who are well-known to us. It is difficult for outsiders to know where these Buddhist temples are situated and which house belongs to the Buddhists."
Some of the temples destroyed were centuries old, and included priceless relics, statues and documents now forever lost.
At that time, Alit Ranjan Barua from the Bangladesh Buddhist Association complained to Al-Jazeera that "this is the worst violence in centuries."
Local Buddhist leaders told BBC that they believed the attacks were coordinated and planed ahead of time.
"The situation is calm now but we are scared. The real culprits have not been arrested. So, they are still threatening us," said Dr Rakal Chandro Kormokar from the village of Ykong Bazaar.
Complicating matters is the ethnic and religious turmoil in neighboring Myanmar (or Burma), in which majority Buddhists have been attacking and killing minority Rohingya Muslims.
It is unclear if the hostility in Bangladesh against the local Buddhists has any link to the violence in Burma.
However, during the communal clashes in Bangladesh last year, some state officials blamed the violence against Buddhists on Rohingya Muslims from outside the country.
Now, the worsening crisis in Burma has become an important issue for Bangladesh's Buddhists.
According to a report from BDNews24.com, a Bangladeshi news agency, Buddhists in Bangladesh are appalled by the violence perpetrated upon civilians – and even Buddhist monks -- by the military in Burma, most of whose members are ostensibly Buddhist, a peaceful faith.
"The Myanmar government will be punished one day for its recent actions," the president of Bhikkhu Sangharaj Mahasava (a Bangladeshi Buddhist organization), Sotyopriyo Mahathero, told bdnews24.com.
"We are profoundly shocked at the havoc the Myanmar military junta wrought of late, and we mourn the deaths of the Buddhist monks."
However, he stopped short of calling for protests.
"In view of the state of emergency in Bangladesh at the moment, we don't think we should do anything more in this regard," he said.
Proggatishsho Sthabir, a monk from Belkhan, Patiya, put it more succinctly: "There is no space for politics in the Buddhist religion."
© Copyright IBTimes 2023. All rights reserved.