Bumble Bee Tuna Recall 2016: List Of Products Affected, How To Get A Refund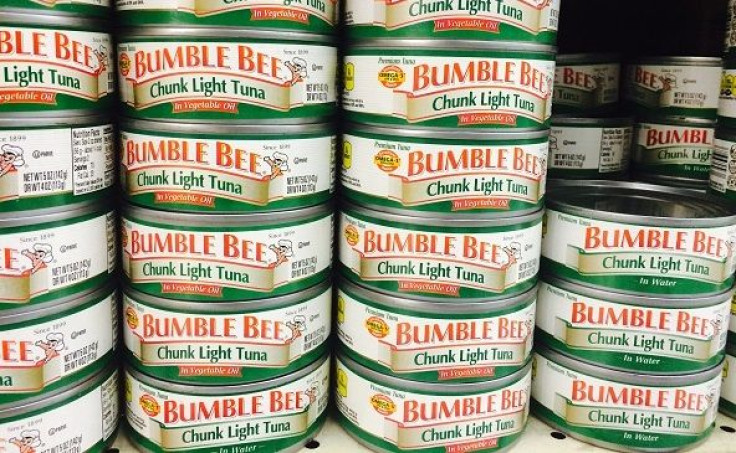 Bumble Bee Tuna lovers, take note: The food company has voluntarily issued a nationwide recall of 31,579 cases of its canned Chunk Light tuna, citing concerns of "spoilage organisms or pathogens." The company has reportedly detected improper sterilization at a third-party packing facility during a routine quality audit.
The recall impacts cases of Chunk Light Tuna produced in February. The three products being recalled include: 5 oz. Bumble Bee Chunk Light Tuna in Water, 5 oz. Bumble Bee Chunk Light Tuna in Oil and the 4-pack of 5oz Bumble Bee Chunk Light Tuna in Water. Specific can codes — a number on the can that begins with a "T" — can be viewed here.
"No other production codes or products are affected by this recall," a spokesperson for the company said.
The recall is precautionary and there have not yet been any reports of illness, the company said. But the risks are high: The contamination could potentially lead to life-threatening illness, their website warns. Customers who have questions are encouraged to contact Bumble Bee at 888-820-1947 between 9 a.m. and 6 p.m. EDT seven days a week. The number can also be called to inquire about possible reimbursement.
"The recall is being initiated out of an abundance of caution due to the possible underprocessing of the affected products," said Bumble Bee in its product recall notice. "Bumble Bee is working closely with the co-packer and the FDA [U.S. Food and Drug Administration] to expedite the removal of products from commerce."
Bumble Bee is reportedly working with the co-packer and the FDA to make sure impacted products are taken off store shelves as quickly as possible. Customers are encouraged to dispose of any recalled product.
It's not the first time the company has had to recall its products. In March 2013, Bumble Bee recalled 5-ounce Chunk White Albacore and Chunk Light Tuna products sold between Jan. 17 and March 6.
For further information, including recall codes, please see the company's website.
© Copyright IBTimes 2023. All rights reserved.