Burmese Beauty Queen May Myat Noe Refuses To Return Tiara After Row With Pageant Organizers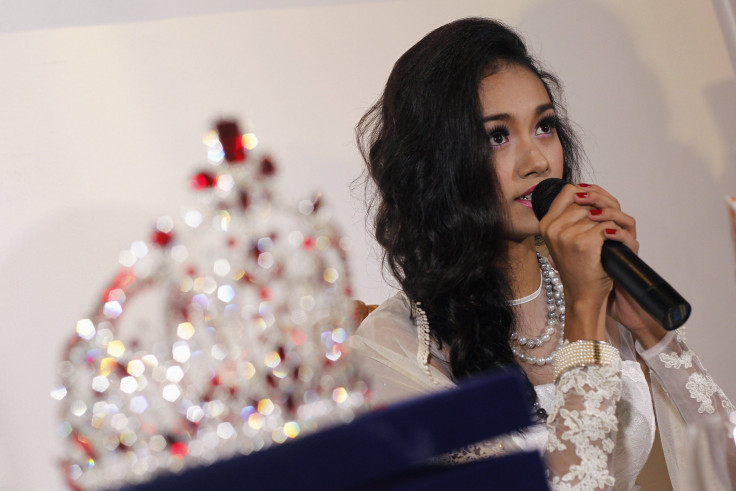 May Myat Noe, a Burmese beauty queen who was stripped of her title last week, refused on Tuesday to return her bejeweled crown, reportedly worth $100,000, until the pageant organizers apologized for calling her a liar and a thief. Noe has been accused of failing to go through a breast enhancement surgery that was paid for by the pageant.
Noe reportedly said at a news conference that she had done nothing wrong and had been dethroned over false allegations, while David Kim, a spokesperson for the pageant, which was held in South Korea, said that the 18-year-old "lied and never had respect for the main organisation, the national director, the manager, media or fans who made her the winner." The pageant committee reportedly wanted Noe to undergo a breast enhancement surgery in order to secure her a record deal.
"I don't want a crown from an organization with such a bad reputation," Noe said at the press conference, according to The Associated Press. "But I won't give it back to the Koreans unless they apologize, not just to me but my country for giving it a bad image."
"I'm not even proud of this crown," Noe reportedly said, adding that she had no interest in keeping the crown with her.
Noe also reportedly responded to allegations made by the organizers of the pageant, which is now in its fourth year, by saying that she had boarded a plane back to her home country before she learned the organizers had decided to take away her title.
"I was put under duress to undergo head-to-toe cosmetic surgery which I refused...I didn't have breast implants, but I don't want to go into details, to preserve my dignity," Noe reportedly said.
The pageant organizers claimed that they had paid for a 10-day trip for Noe to Seoul for the surgical procedure, but she remained in the South Korean capital for three months, at the expense of the pageant, without going through the operation.
© Copyright IBTimes 2023. All rights reserved.
FOLLOW MORE IBT NEWS ON THE BELOW CHANNELS