Burundi Authorities, Youth League Arrest And Torture Suspected Opposition, As African Country Spirals Toward Civil War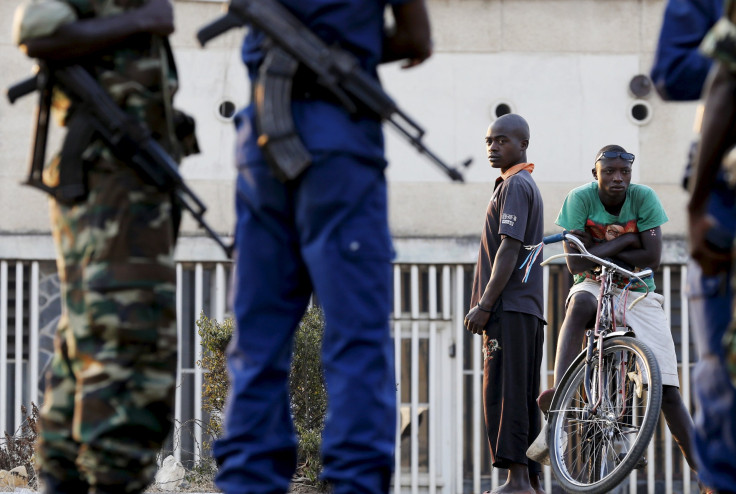 Pops of gunfire echo relentlessly throughout the night on the streets of Burundi's capital Bujumbura, as both authorities and armed groups arrest and torture scores of the government's perceived opponents. Although they bear no legal right, the youth league of Burundi's ruling party has apparently joined the officials in detaining people, and some members have even donned police and military uniforms. In the mornings, locals discover fresh corpses in the streets, and it's not clear who's to blame.
"It's very difficult to live here in Burundi," said Odilon, a freelance journalist in Bujumbura, who declined to give his last name for fear of reprisal. "Now, you cannot distinguish [between] military and militia or police and rebels. It's chaos."
Since Burundi's President Pierre Nkurunziza announced his bid for a third term in office, the landlocked central African country has collapsed in recent weeks into violent turmoil, which has claimed dozens of lives and forced thousands of others to flee. Despite opposition from domestic civic groups and international organizations, Nkurunziza and his ruling National Council for the Defense of Democracy-Forces for the Defense of Democracy declared victory in the country's parliamentary and presidential polls. The predictable results have only stoked the spitting fire between Nkurunziza and his opponents.
Members of the ruling party's youth league, known as Imbonerakure, have arbitrarily arrested and ill-treated dozens of Nkurunziza's suspected opponents in and around Bujumbura since April, sometimes in the presence of Burundian police or intelligence officials. The armed youth hit their victims with sticks and clubs, force them to roll in muddy pits and punch them in the face. The Imbonerakure often hand the detainees over to Burundian authorities, who then torture them and force them to admit to false charges, according to a new report by Human Rights Watch, which interviewed more than 80 victims, lawyers, activists, judicial officials and other sources in Burundi.
"The Imbonerakure have no legal right to arrest anyone, yet they have been stopping people arbitrarily, beating them, and handing them over to the intelligence services, who tortured some of them," Daniel Bekele, Africa director at the New York-based international rights group, said in a statement Thursday.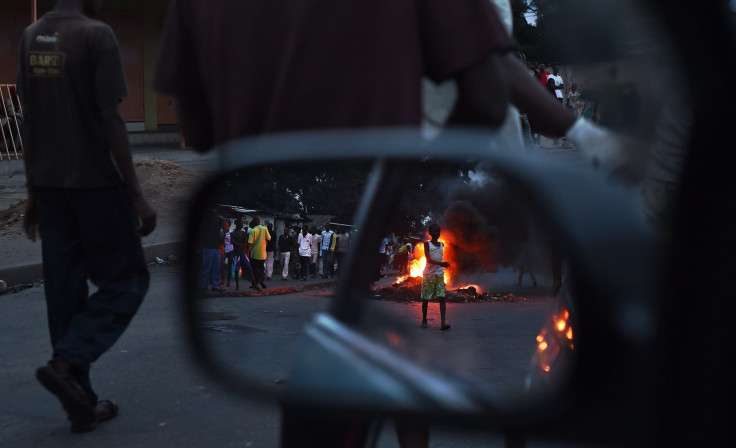 Critics argue Nkurunziza's third term bid is unconstitutional. But Burundi's ruling party said Nkurunziza's first term does not count because he was appointed by Parliament rather than elected in 2005, following a peace deal that ended 12 years of civil war between Burundi's Hutu and Tutsi tribes.
Pierre-Claver Mbonimpa, a leading rights activist in Burundi who has been outspoken against the government, was shot in the face Monday by a gunman on a motorbike in the capital city. Mbonimpa survived the attempted killing, but it triggered an international outcry and fueled fears that Burundi will fall back into civil war. United Nations Secretary-General Ban Ki-moon condemned "the assassination attempt" as "part of a growing pattern of politically motivated violence in Burundi that must be broken before it escalates beyond control."
The shooting incident followed the killing of General Adolphe Nshimirimana, who was widely seen as Burundi's de-facto internal security chief and the president's effective deputy. The leading Burundian general's car was apparently hit in a rocket attack in Bujumbura on Sunday, witnesses told AFP news agency.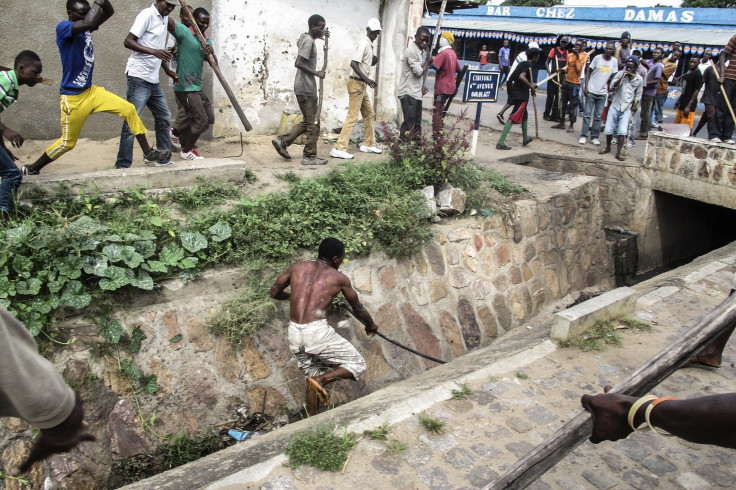 The opposition, which boycotted the polls, has been accused of attacking or hounding Burundian authorities and supporters of the ruling party. Last week, Burundian opposition leader Agathon Rwasa, who was a leading voice in condemning the recent elections, accepted a position as deputy speaker in Burundi's National Assembly. Other opposition figures denounced Rwasa as a "traitor," AFP reported.
"On one hand, it works to play the opposition but they essentially leave themselves open to co-opting a deal," said J. Peter Pham, director of the Africa Center at the Atlantic Council in Washington, D.C. "Everything is not always as it appears in Burundi. No doubt there's been abuses, but there's a lot of posturing going on."
Some civilians have also armed themselves to protect their neighborhood when night falls, AFP reported. Rumors have swirled that exiled Burundians have formed an armed opposition movement in Rwanda and have carried out cross-border attacks, which has led authorities to arrest more than 200 people who they claim were part of this rebel group, according to the Human Rights Watch report.
Since March, more than 140,000 Burundians have fled the tiny country, which is nestled in the heart of central Africa's Great Lakes region. The refugees have sought asylum in neighboring Rwanda, Tanzania or the Democratic Republic of Congo.
For Odilon, 28, fleeing is not entirely viable because he fears retribution from Burundian authorities.
"I thought to leave the country, but where?" he said Thursday via a messaging service. "If you go in Rwanda, you are accused [of joining] rebellion."
© Copyright IBTimes 2023. All rights reserved.
FOLLOW MORE IBT NEWS ON THE BELOW CHANNELS