Burundi Elections 2015: President Blocks Twitter, Facebook, WhatsApp, Tango Mobile Access In Protest Crackdown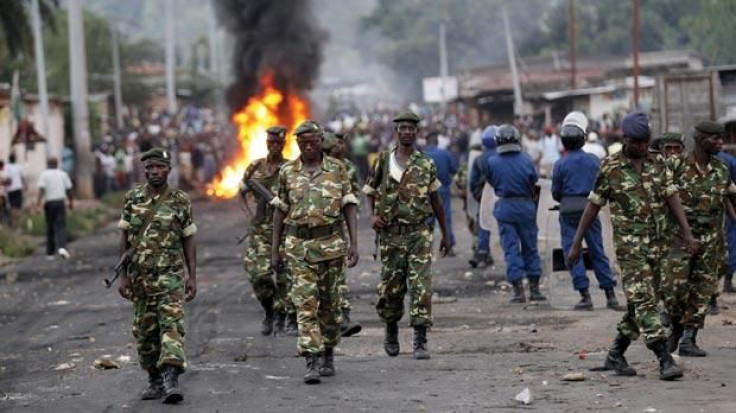 The government of Burundi has blocked mobile access to social media networks -- including Twitter, Facebook, WhatsApp and Tango -- in an effort to crack down on growing protests over President Pierre Nkurunziza's re-election efforts. Protesters in the southeast African country have used the various messaging services on the social media sites to coordinate demonstrations in the capital city Bujumbura this week, after Nkurunziza announced his decision to seek a third term in June.
"Government restrictions on communications not only violate basic media freedom but deprive many Burundians of the right to information about events that affect them directly," said Daniel Bekele, Africa director at Human Rights Watch.
Nkurunziza and his ruling party, the National Council for the Defense of Democracy-Forces for the Defense of Democracy (CNDD-FDD) have also cut Burundian phone lines and nonstate media, including African Public Radio, a leading independent radio station, the rights group said. Nkurunziza has banned protests and deployed government forces to stop people from demonstrating.
"These radio stations in Burundi are doing their job by covering the news," Bekele said in a statement this week. "The Burundian authorities should respect people's right to demonstrate peacefully."
At least three people were killed and others injured Sunday as police fired rounds of ammunition on crowds, BBC News said. More than 24,000 people have fled the African country this month as tensions escalate and the date for the presidential polls approaches, the United Nations refugee agency said.
The president's decision to seek re-election triggered widespread protests in Bujumbura since Sunday. Both the Burundian constitution and a peace agreement that ended 12 years of civil war state that no president may be elected for more than two terms in office. But CNDD-FDD supporters have said Nkurunziza's first term does not count because he was appointed by Parliament rather than elected. Nkurunziza, an ex-rebel leader, took office in 2005 following the peace deal.
© Copyright IBTimes 2023. All rights reserved.
FOLLOW MORE IBT NEWS ON THE BELOW CHANNELS