Bush 41 To Spend Weekend In Hospital, Condition Improving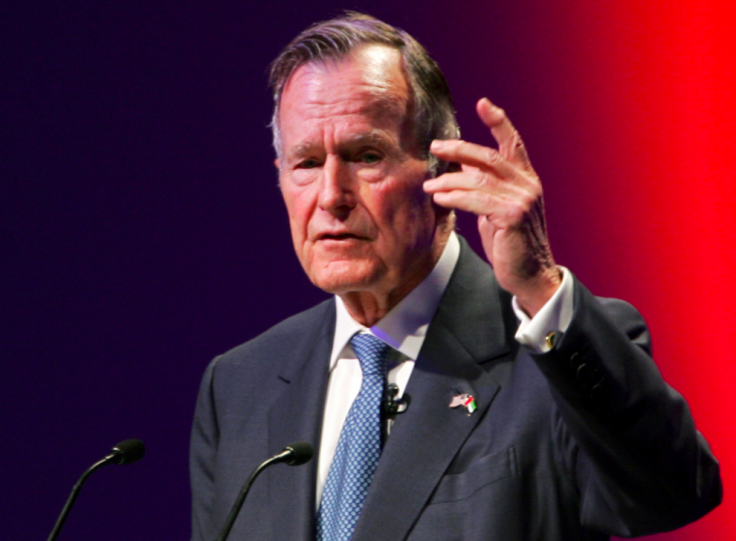 Former President George H.W. Bush's condition improved Saturday, but he will remain in Houston Methodist Hospital through the weekend, Reuters reported. The 90-year-old was rushed to the hospital via ambulance Tuesday with difficulty breathing.
It hasn't been revealed what caused Bush's symptoms. Spokesman Jim McGrath said the former president's hospital stay is a precaution. "President Bush's condition has improved to the point that doctors have begun discussing dates for his discharge," McGrath said in an updated message Saturday. "He will remain at the Houston Methodist Hospital through the weekend for further observation."
Bush spent Christmas in the hospital, but was visited by wife, Barbara, son Neil and daughter-in-law Maria Bush. He extended a Merry Christmas "to one and all."
It's not the first time the 41st president has spent the holidays in a hospital, CNN wrote. In 2012, he was hospitalized for two months for bronchitis. He was discharged in January 2013.
President Barack Obama, who is vacationing in Hawaii, was advised of Bush's health problem and sent his regards. "President Obama and the first lady send their good wishes to the former president and the entire Bush family during this holiday season," White House spokesman Eric Schultz said, according to Reuters.
Bush, the oldest living former president, suffers from a form of Parkinson's disease that has robbed of the use of his legs. He was elected commander-in-chief in 1988 and served for one term.
Follow me on Twitter @mariamzzarella
© Copyright IBTimes 2023. All rights reserved.