Buyer Of 'Mystery Plane' Which Made Unauthorized Flight Over NATO Nations Spoke Russian
KEY POINTS
The aircraft flew over Hungary, Poland, Slovakia, Serbia, Romania and Bulgaria
The plane landed in a small abandoned airfield in the province of Targovishte
Two USAF F-16s, two Romanian F-16s and two Hungarian Gripens tried to intercept it
As Bulgaria continues its search for the crew of the mystery aircraft that flew over six NATO nations last Wednesday, reports have emerged that one of the men who bought the plane from a Lithuanian flight company spoke Russian.
The four-to-six-seat twin-engine Aztec aircraft was sold to an undisclosed organization by Nida Air Park in Lithuania, reported Lithuanian outlet LRT. According to Bronius Zaronskis, pilot and director of the Air Park, three foreign men came to inspect the aircraft prior to the sale, one of whom spoke to him in Russian. He, however, could not record their names.
"They were not Lithuanians. I cannot say which country they were from, maybe Ukrainians, may be Romanians, or Bulgarians. One man and I communicated with each other in Russian…I don't know the names of these men. I wasn't interested," Zaronskis told the outlet.
"I sold it and said goodbye to that plane. I was trying to sell it for many years. I had nowhere to put it, so I am glad they bought it...I don't remember which organization bought it. It was written in a foreign language," Zaronskis added.
The plane reportedly took off Wednesday evening, possibly from Panevėžys airport in Lithuania.
"They came to Panevėžys last week, and we were checking the plane for a few days, sorting out the paperwork," the pilot added. It then flew over Hungary, Poland, Slovakia, Serbia and Romania before entering Bulgaria through the northern city of Vidin. All these countries are NATO members, except Serbia, which maintains a close relationship with Russia.
It landed in a small abandoned Bulgarian airfield, known as the Targovishte Airport, in the province of Targovishte. When discovered, the plane's engine was still warm and there was no trace of the crew. A tarpaulin covered the aircraft at the airstrip, which had not been in use for years until some local people began utilizing it for agricultural purposes a few months ago.
Hungarian sources confirmed to The Drive that an aircraft coming from Lithuania did land in the town of Hajduszoboszlo without authorization. A number of people exited the plane, which also refueled there. Since the flight was illegal, airport officials contacted local police, but officials failed to arrive before it departed the airport, the report said.
The plane was reportedly escorted by up to six fighter jets until it entered Bulgarian airspace. The U.S. Air Force, Hungarian Air Force and Romanian Air Force were alerted of the mystery plane's journey.
Two USAF F-16s, two Romanian F-16s and two Hungarian Gripens were deployed to intercept the plane that allegedly failed to respond to radio calls or visual signals. Since the aircraft was flying at a low altitude and had its transponder switched off, the jets could not successfully intercept it.
However, the Bulgarian Ministry of Defense decided that the plane did not pose a threat to civilian or military infrastructure. The Romanian Ministry of Defense echoed the same sentiment.
This comes as Europe, especially NATO allies, witnesses high tensions and increased security following Russia's invasion of Ukraine.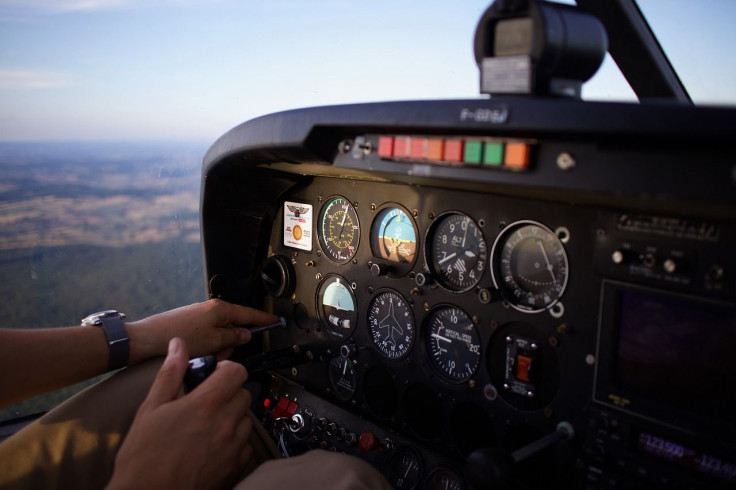 © Copyright IBTimes 2023. All rights reserved.
FOLLOW MORE IBT NEWS ON THE BELOW CHANNELS