Cain Leads Romney in South Carolina by 1 Point in New Poll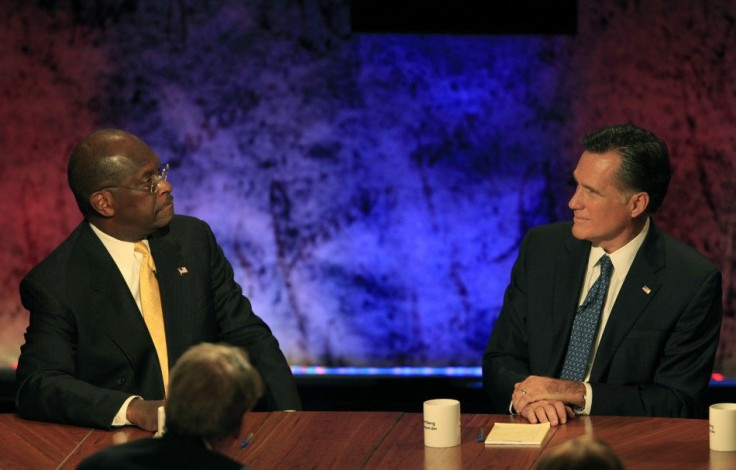 Herman Cain is leading Mitt Romney by the slimmest of margins in South Carolina, which will hold one of the first presidential primaries next year.
The American Research Group poll showed Cain, a Georgia businessman, with 26 percent support: 1 percentage point ahead of Romney, the former governor of Massachusetts. Statistically speaking, the race is tied, because Cain's lead is well within the margin of error of plus or minus 4 percentage points.
Texas Gov. Rick Perry, who once led Romney by double digits in South Carolina, had 15 percent. Newt Gingrich had 8 percent, Ron Paul 7 percent, Michele Bachmann 5 percent and Rick Santorum 1 percent.
Cain's Rapid Rise: An Eye-Opener
What is most striking is not Cain's tenuous lead, but his rapid rise: In a Winthrop University poll conducted three weeks ago, his support was just 8 percent among Republican voters in South Carolina.
His trajectory in South Carolina mirrors his trajectory on the national stage, where he has shot up from single-digit support to tie or even surpass Romney in some polls.
That's in-line with the general trend of the past several months, in which the results of state-level polls in South Carolina have resembled the results of national polls. Romney has remained in first or second place throughout the process, while a succession of more conservative candidates -- first Michele Bachmann, then Rick Perry, now Cain -- have temporarily surpassed him.
It is impossible to say whether Cain will maintain his lead, but there is still time and room for the numbers to change. According to the American Research Group poll, 12 percent of likely Republican primary voters in South Carolina remain undecided.
The first four states to hold primaries or caucuses -- traditionally, Iowa, New Hampshire, Nevada and South Carolina -- hold a lot of sway over the nominating process, but there have been a number of election cycles in which the eventual nominee was not the one who did best in the early polls. Also, since so many states are holding their primaries and caucuses early next year, the traditional early states' advantage may be diminished.
© Copyright IBTimes 2023. All rights reserved.