Is California Chrome Owner Steve Coburn Right? Triple Crown Rules Inconsistent, Blocking Greatness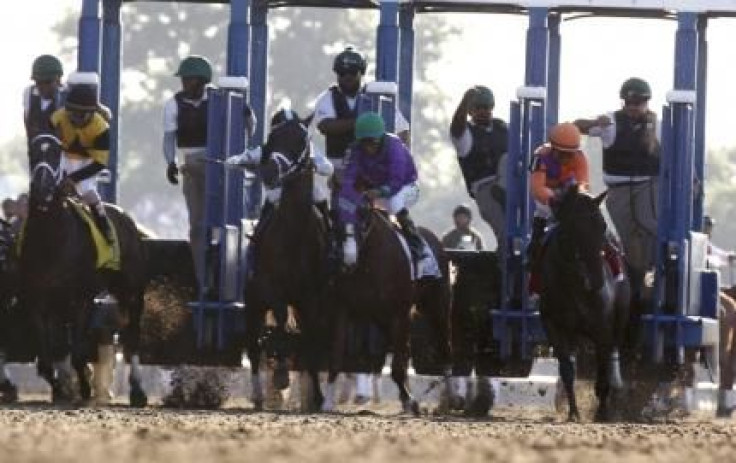 California Chrome co-owner Steve Coburn, upset after his horse missed his chance to be the first Triple Crown winner in nearly four decades, said the only horses that should be eligible for the Belmont Stakes and Preakness are the 20 who run the Kentucky Derby.
California Chrome, who captured the Derby and Preakness earlier this year, was poised to become the first Triple Crown winner since Affirmed in 1978. Instead, California Chrome finished fourth, bested by Tonalist, who did not run in either of the previous crown jewels.
Coburn's "That's the cowards way out!" during his post-Belmont Stakes interview with NBC Saturday is likely to overshadow California Chrome's amazing run into America's hearts over the past five weeks.
Coburn called into question how a horse like Tonalist, who has only four career starts including his Belmont victory, could be entered into the final Triple Crown race after not participating in the first two legs.
"You know what he's been in three, this is his third really big race," Coburn said. "These other horses they always send'em out. They send'em out and try to upset the up card."
"I'm 61 years old and I'll never see a Triple Crown-winner because of the way they do this. It's not fair to these horses that have been in the game since Day One. I look at it this way. If you can't make enough points to get into the Kentucky Derby, you can't run in the other two races," he said.
"It's all or nothing. It's all or nothing. Because this is not fair to these horses that have been running their guts out for these people and for the people that believe in them.
"This is the coward's way out. Those 20 horses that start in Kentucky are the only ones eligible to run in all three races. This is the coward's way out."
Coburn's comments have garnered mixed reaction on social media, but does he have a point?
Of the 12 horses to compete in the Belmont, only California Chrome, Medal Count, General A Rod and Ride On Curlin had competed in the first two legs of the Triple Crown.
For a horse to be entered into a Triple Crown race, their owners must pay a fee ranging from $600 to as much as $6000 from January to late March, depending on how early or how late they decide to enter their prized thoroughbred.
Now for the Derby for the last two years, a horse must also participate in prep races and the championship series leading up to the Churchill Downs showdown to scavenge together enough points to be one of the 20 qualifiers.
However for the Preakness and Belmont, an owner only has to pay the entry and starting fees on top of the initial Triple Crown fee to participate.
Compared to Tonalists four career races, California Chrome has tallied 12 starts since April of last year, including eight victories.
During the prep races for the Derby, California Chrome's wins at the Santa Anita and San Felipe Derby made him the far and away points leader with 150, compared to the next closest Vicar's In Trouble with 120. Tonalist had zero points with his connections of owner Robert S. Evans and trainer Christophe Clement evidently deciding to keep him out of the first two legs.
And the strategy clearly worked as Tonalist looked far fresher than California Chrome and the rest of the pack, angling to the top and staying there for the majority of the race.
Tonalists biggest race before Saturday actually took place at Belmont Park in May when he finished first at the Grade II Peter Pan.
If Coburn did get his way there would be a problem. If the same group of horses is asked to run in all three stakes races the competition could be far thinner and make for less excitement in the long run. And every subsequent Triple Crown winner could have an asterisk placed next to their names in history for not winning the "real way," much like with baseball's home run record. Coburn could also be shut out from horse racing's inner circle for publicly criticizing the system the way he did.
Horse racing has been slow to change for the last 150 years, so Coburn's words may not be taken seriously or have much effect in the short term.
WATCH VIDEO: Tonalist beats California Chrome in the Belmont.
© Copyright IBTimes 2023. All rights reserved.