California Continues Leading The Nation On Climate Change Policy With 50% Renewable Energy Proposal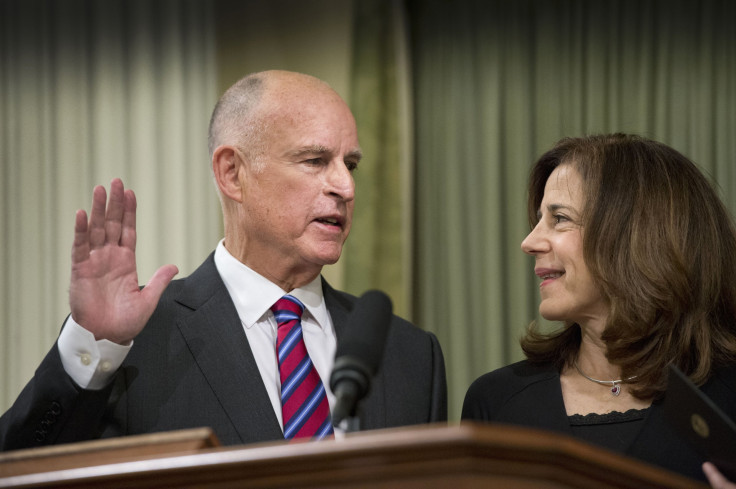 California could get half its electricity from renewable energy sources in 15 years if a new proposal from Gov. Jerry Brown gains ground. The governor, who was inaugurated for a fourth term Monday night, pledged to accelerate the state's environmental policies as part of a broader attempt to lead other U.S. states in the fight against climate change.
"California, as it does in many areas, must show the way," Brown said in his inaugural address in Sacramento. "We must demonstrate that reducing carbon is compatible with an abundant economy and human well-being. So far, we have been able to do that."
Brown's proposal is the most ambitious state renewable energy policy in the country. The 50 percent goal, which still needs approval from regulators, expands on California's existing requirement that power companies derive 33 percent of their supplies from solar, wind, biomass and other clean sources by 2020. California utilities say they are well on their way to meeting the goal. Nationwide, only about 13 percent of total U.S. electricity generation came from renewables, including hydropower, in 2013, according to federal energy data.
California for decades has led the nation with its environmental agenda, offering a template for other states in the absence of any comprehensive federal policy on climate change. In 2006, for instance, former Gov. Arnold Schwarzenegger signed a landmark global warming law with sweeping measures for cutting pollution from tailpipes, smokestacks and buildings. The policy requires the state to reduce greenhouse gas emissions to 80 percent below 1990 levels within the next four decades.
Such climate measures include the state's "zero-emissions vehicles" mandate, which requires about 15 percent of all new light-duty vehicles sold in California to run on electricity or hydrogen fuel cells. About five in every 1,000 vehicles in California today is powered by batteries, a higher penetration than in any state, thanks to the mandate and generous state and federal incentives, the U.S. Energy Information Administration found.
Nine states in the U.S. Northeast have agreed to adopt similar clean car mandates, and a handful of states on the East and West Coasts are considering replicating California's low-carbon fuel standard, which aims to slash greenhouse gas emissions from transportation fuels. The mandate requires fuel refiners and distributors to reduce the overall "carbon intensity" of their supply mix by 10 percent by 2020, in part by using alternative fuels such as cellulosic ethanol and reducing imports of high-carbon sources, including crude from the Canadian oil sands region.
In recent years, California regulators have worked with federal transportation and environmental officials to craft new standards for reducing tailpipe emissions and boosting gas mileage in cars. In 2012, the Obama administration agreed to raise the average fuel economy of new passenger vehicles to up to 54.5 miles per gallon for model year 2025 and on.
Brown said he would scale up the state's climate programs in his final term. He called for slashing gasoline and diesel use in cars and trucks by up to 50 percent by 2030, and he proposed to double the energy efficiency of the state's existing buildings. "Taking significant amounts of carbon out of our economy without harming its vibrancy is exactly the sort of challenge at which California excels," he said in his speech. "This is exciting, it is bold and it is absolutely necessary if we are to have any chance of stopping potentially catastrophic changes to our climate system."
Environmental groups praised Brown's proposals and called the targets achievable. "This is a big deal," Alex Jackson, a legal director for the Natural Resources Defense Council in California, told the New York Times. "The beacon of climate and clean energy emanates from the [U.S.] West."
Republican state lawmakers, meanwhile, said they were worried Brown's climate agenda would increase taxes and regulations for businesses and make it harder for companies to operate in the state. "At what point does being on the leading edge of environmental reform impact our ability to create jobs?" said Bob Huff, a Republican and the state Senate minority leader, the Times reported.
© Copyright IBTimes 2023. All rights reserved.
FOLLOW MORE IBT NEWS ON THE BELOW CHANNELS