California Drought Poised To Drive Up Food Prices As It Worsens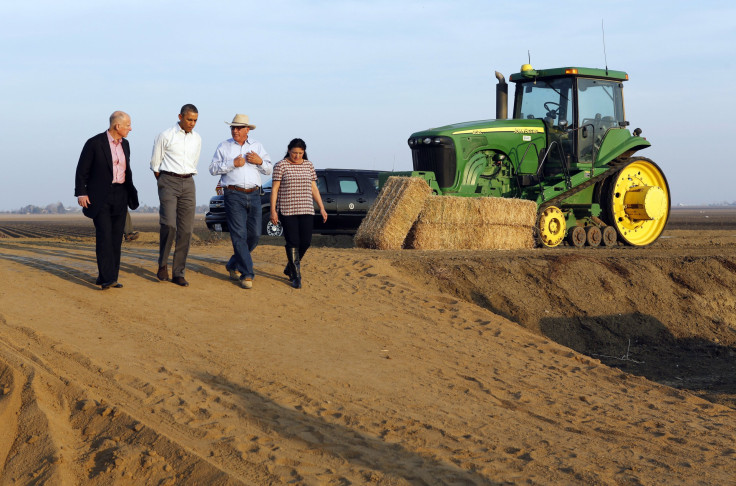 A prolonged drought in California that spread to nearly 33 percent of the state this week is expected to dry up thousands of jobs in the state's agricultural sector and could push U.S. food prices higher this year.
The state's "exceptional" drought is the worst recorded in the 14 years that the U.S. Department of Agriculture (USDA) has been collecting such data. The Golden State, the world's eighth-largest economy, produces nearly half of the nation's fruits and vegetables — 95 percent of the country's broccoli, 81 percent of its carrots, and 99 percent of its artichokes, almonds and walnuts — along with cattle and dairy products.
Already prices have risen for the short-grained rice California grows and that is used in some Japanese sushi and Korean dishes, and beef prices are up around the country due to a drought in the Midwest, similar bad weather in Texas and the drought in California's Central Valley. Prices for short-grain rice will probably go up 10 percent to 20 percent this year, according to Daniel Sumner, agricultural economist and director of the Agriculture Issues Center at the University of California Davis.
But so far, fruits and vegetables have avoided big price shocks. Unlike rice, the crops California is known for are considered high-value crops.
"Many of the crops people associate with California specifically are very high value per drop, so we'll all struggle like heck to make sure those crops get the water," Sumner said. Those crops include broccoli, carrots, artichokes, fresh market tomatoes, strawberries and lettuce, "pretty much anything you find on the produce isle," Sumner added.
"People will pay a little extra to keep the trees alive, figuring this won't last forever," Sumner said. "You're not going to let a grape or almond tree that has 20 years of value left die. The strawberries and fancy grapes in Napa Valley will still get water."
It also helps that many of the crops most vulnerable to drought are grown near the coast, away from the worst of this year's drought.
Since groundwater from snowpack and reservoirs is scarce, farmers are increasingly pumping water onto crops from wells, sometimes drilling deeper to squeeze out more water. It's unsustainable in the long term, but has so far kept California's most valuable crops alive with about 75 percent of the water lost from the drought at an estimated cost of $450 million, according to a recent study by the University of California Davis.
"Without access to groundwater, this year's drought would be truly devastating to farms and cities throughout California," the report's co-author Jay Lund said in a statement.
That study also found the drought could cost the agriculture industry $1.7 billion total and cause 14,500 workers to lose their jobs. Still, the sector's gross domestic product is about $1.9 trillion per year and contributes only 3 percent to the state's economy.
Any fruit and vegetable price changes would take about a month to hit supermarket shelves, Richard Volpe, an economist for the USDA's Economic Research Service (ERS), estimated. ERS forecasts that fruit and vegetable prices will rise by about 3 percent in 2014, lower than the 6 percent rise expected in beef, and the 5 percent to 6 percent rise expected in egg prices from factors excluding the drought.
Though Volpe wrote that farmers may opt to reduce total acreage due to insufficient water, which would drive up prices for those crops, he said, "At this point, it is too soon to discuss the extent to which this is likely to happen throughout California."
© Copyright IBTimes 2023. All rights reserved.