California Immigration 2015: State's Immigrants Seen As Positive Compared With US, Poll Finds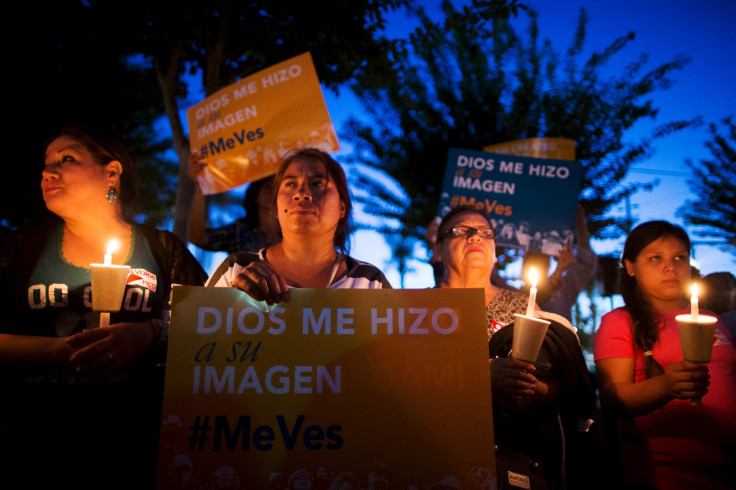 Californians are more likely to view immigrants as a positive force on American society compared with the United States as a whole, according to a University of Southern California Dornsife/Los Angeles Times poll released Sunday. 59 percent of California voters said immigrants strengthen society, compared with 49 percent of all U.S. voters.
35 percent of California voters reported immigrants weaken U.S. society, while 43 percent of all U.S. voters said they weaken it. But Californians weren't without reservations regarding immigration.
Despite feeling immigrants strengthen society, 41 percent of California voters said immigrants also make life harder for natives financially, while 10 percent said immigrants make things easier and 39 percent said immigrants made no difference to their lives financially.
"It's not surprising that Californians are much more positive about the benefits of immigration than voters nationally, but even our state's residents recognize that immigration can present economic challenges as well," said Dan Schnur, director of the University of Southern California's Jesse M. Unruh Institute of Politics. "It's a testament to California voters that they understand that the long-term positive contributions that immigrants can provide are worth the short-term financial challenges that may arise."
U.S. Immigrant Population and Share Over Time | InsideGov
Much of the nation's discussion surrounding immigration deals with Hispanic or Latino immigrants crossing the United States' southern border. California is 38.6 percent Hispanic or Latino, compared with 17.4 percent for the rest of the nation, according to Census data. With the 2016 presidential race fully underway, immigration has become a central issue, especially among the Republican Party candidates, many of whom strongly oppose President Barack Obama's controversial Deferred Action for Childhood Arrivals program, which allows young, undocumented immigrants brought to the U.S. as children to apply for temporary legal status.
The University of Southern California/Los Angeles Times survey was conducted Oct. 29 – Nov. 3, among 2,009 registered voters in California with an additional sample of 3,035 registered U.S. voters. The margin of error estimates for the poll were 3 percentage points for California results and 2.5 percentage points for the United States as a whole.
© Copyright IBTimes 2022. All rights reserved.
FOLLOW MORE IBT NEWS ON THE BELOW CHANNELS