California Measles Outbreak Update: Three Cases Confirmed In San Francisco Bay Area As Total U.S. Cases Top 100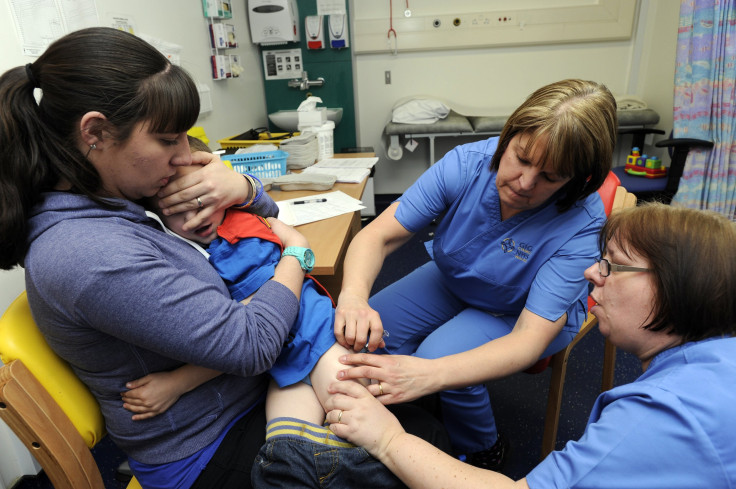 Three people in the San Francisco Bay Area have come down with measles, adding to the more than 100 cases confirmed so far in the United States. Health officials in San Mateo County confirmed one measles case Friday, while officials in nearby Marin County reported two people had become infected with the highly contagious disease, local media reported.
The three diagnoses bring the number of known Bay Area measles cases to 13. Across California, more than 90 people have been confirmed as infected, with many cases linked to an outbreak that began in Disneyland in December. Smaller clusters of additional cases were reported in 13 other states -- Arizona, Colorado, Illinois, Minnesota, Michigan, Nebraska, New York, Oregon, Pennsylvania, South Dakota, Texas, Utah and Washington state -- as well as in Mexico.
In Marin, the richest county in California, health officials said two unvaccinated siblings came down with measles after being exposed "outside of Marin," the San Francisco Chronicle reported Saturday. The two are the first confirmed case of measles in the county since 2001. San Mateo health officials could not provide details of the one case in that county, according to the Chronicle.
The measles outbreak began when an infected visitor from outside the United States visited Disneyland or the nearby Disney California Adventure Park in Orange County from Dec. 15 to Dec. 20.
Measles disappeared from the U.S. in 2000, but health officials with the Centers for Disease Control and Prevention, or CDC, have said the disease returned because some parents aren't vaccinating their children -- leaving people vulnerable to foreign visitors who might bring the disease onto U.S. soil. Last year, the U.S. saw a modern record number of measles cases, with 644 cases reported to the CDC from 27 states, according to the health agency. In 2013, by contrast, the U.S. documented fewer than 200 cases, while only around 50 cases were reported in 2012.
Measles is an acute viral illness that begins with a fever, cough and runny nose and can lead to itchy rashes and even more severe health complications such as pneumonia and encephalitis, or swelling of the brain. No deaths have been reported so far in the Disneyland outbreak.
In recent years, small numbers of parents have refused to vaccinate their children, fearing inoculation could cause autism or other harmful health effects. Public health officials and scientists have repeatedly disputed any link between vaccines and autism, and are urging families to protect themselves from diseases.
The White House Friday urged parents to heed the experts' advice and get their children vaccinated." People should evaluate this for themselves with a bias toward good science and toward the advice of our public health professionals," Josh Earnest, a spokesman for U.S. President Barack Obama, told reporters. Asked whether people should be vaccinated, he said, "That's what the science indicates."
© Copyright IBTimes 2023. All rights reserved.