Cambodia-China Military Cooperation: Beijing Influence In Indochina Usurps Washington's Influence In Asia Pacific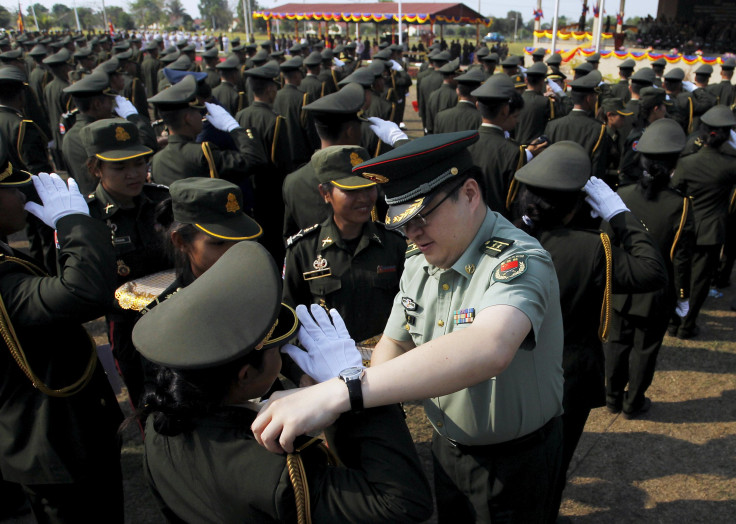 Military cooperation this month between Cambodia and China suggests that leaders in Phnom Penh are now more likely to turn to Beijing for support in regional disputes rather than Washington, analysts say. Cooperation between Cambodia and China has reportedly strengthened amid Cambodia's border dispute with Vietnam.
Cambodia's Defense Minister Tea Banh concluded a five-day trip to China last week. He met with high-ranking military officials as Cambodia received pledges of assistance from China's People's Liberation Army. Banh said Cambodia's burgeoning relationship with China is stronger than its ties to the U.S., according to an interview with Voice of America's Khmer service.
Cambodia's ongoing border conflicts with Vietnam were part of the reason it turned to China for military assistance. Earlier this month, a border clash between Vietnamese authorities and Cambodian civilians left more than a dozen people injured. Roughly 250 Cambodian activists illegally entered Vietnamese territory through the eastern region of Cambodia, the Bangkok Post reported. In an effort to stop them, Vietnamese authorities tried to reason with protesters before allegedly being attacked. Seven Vietnamese and 10 Cambodians were injured during the confrontation.
Though ties between Phnom Penh and Beijing are a concern for officials in Hanoi, the alliance also is viewed as a threat to U.S. influence in the region.
"The region is full of complicated competition," Chheang Vannarith, a professor at the University of Leeds in England, told VOA. "China takes Cambodia in Indochina and the Mekong region to strengthen its sphere of influence in the Asia-Pacific."
China's role as "a growing superpower" in the region could contribute to a "growing cold war" between Washington and Beijing, added Paul Chambers, a professor at Thailand's Chiang Mai University.
© Copyright IBTimes 2023. All rights reserved.