Cameron Johnson Will Need To Take Up Injured Suns Guard's Place Temporarily
KEY POINTS
Devin Booker is expected to miss Game 3 and 4 against the New Orleans Pelicans
Cameron Johnson must step up and take the offensive load in his stead
Head coach Monty Williams has confirmed that Booker is dealing with a hamstring injury
The Phoenix Suns are in a bind going into their set of games away from home against the New Orleans Pelicans after Devin Booker's recent run-in with injury.
ESPN's Adrian Wojnarowski confirmed that Booker is likely to be sidelined for Games 3 and 4, and the Suns must now lean on young forward Cameron Johnson to take over the scoring duties.
Johnson was instrumental in the Suns' come-from-behind victory against the New York Knicks on March 4, scoring a career-high 38 points with nine three-pointers plus the game-winning, buzzer-beating three-pointer.
However, Johnson found himself on the sidelines for 13 games due to injury and he has not looked right since as he only tallied 8.7 points on 31% field goal shooting and just 19.4% from three in the Suns' last six games of the season.
But with Booker out, Johnson must be ready to take up the responsibility of being the team's primary scorer since that would be how head coach Monty Williams will line them up going into Game 3.
The projected starting five for the Suns could look like this:
Center: Deandre Ayton
Power Forward: Jae Crowder
Small Forward: Mikal Bridges
Shooting Guard: Cameron Johnson
Point Guard: Chris Paul
This bigger, much more offense-laden group, but arguably slower, can hope to contend with Brandon Ingram and CJ McCollum's ability to explode as quickly as they did in Game 2.
The case can also be made for Landry Shamet to move up into the starting lineup, which leaves Johnson wide open to lead the bench mob.
It would not be such a bad idea for Shamet to be the starter after his impact in Game 2, but Williams might opt to have the length that Johnson provides in order to contend with the Pelicans.
Speculation grew about Booker's injury after he was seen sitting on the Suns sideline with a disappointed look on his face, and Williams then confirmed in the postgame presser that their leading scorer is dealing with a hamstring issue.
The Suns will be hard-pressed to replace Booker's production as he was the sole reason for them even being in the game against the Pelicans after dropping 31 points in the first half of Game 2.
Dealing with adversity has been the Suns' calling card in recent years and they were able to weather the storm in the 14 games that Booker was absent this season, putting up a record of 8-6 during that time.
Booker is the undisputed MVP of this Suns team and everyone in the league knows.
But for the Suns and Johnson, especially, this will be another opportunity for them to show why they are the best team in the league.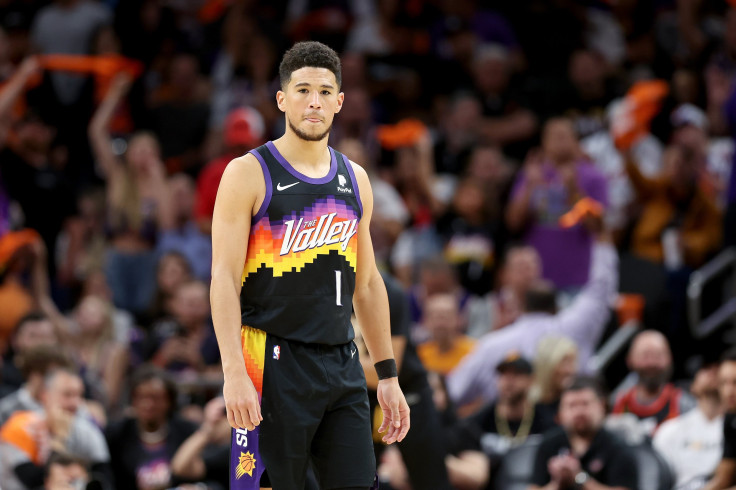 © Copyright IBTimes 2023. All rights reserved.