Why Game 3 Will Determine How Denver Nuggets Address Their Offseason
KEY POINTS
The Nuggets must pull out all the stops to steal Game 3 from the Warriors
Nikola Jokic having no stars to complement him this series is hurting his actions on the court
This series will determine what the Nuggets need to address in the coming offseason
The Denver Nuggets are staring at a two-game deficit as they travel back home to Ball Arena for Game 3, and its outcome could determine what the franchise must do next to improve.
In the series opener, the Nuggets were blown out of the water to the tune of a 123-107 drubbing at the hands of the Golden State Warriors and it was bound to happen in Game 2 as well.
However, the Nuggets staved off the Warriors for a long while with a 13-point cushion and it seemed as if they would be able to steal a game away from home to even the series.
But as expected, the committee of Stephen Curry, Klay Thompson, Jordan Poole and Andrew Wiggins combined for 97 of the Warriors' 126 points to take Game 2 and crush the spirits of the Nuggets.
MVP frontrunner Nikola Jokic was visibly frustrated with the Warriors' pesky defense and mind games to the point that he was ejected with seven minutes left to play.
Draymond Green and young guard Gary Payton II were certainly on Jokic's case in Game 2 as their tough defense made him focus on things that he cannot control.
Granted that there were some missed calls, but Jokic cannot be flustered at any point and argue with the referees since his team is counting on him.
Though it is growing likely that the Nuggets will be swept by the Warriors, a cold-shooting night from them is all the opportunity that Denver needs in order to shift momentum in their favor.
According to Land of Basketball, teams that had a 2-0 lead in the playoffs eventually won the series 404 times with 176 such occurrences in the first round.
Without the services of Jamal Murray and Michael Porter Jr., the Nuggets are at risk of allowing the Warriors to become a part of that statistic.
This now begs the question of what else would the Nuggets need to compete with the upper echelon of talent in the Western Conference?
The upstart Phoenix Suns have already passed them by and they could be the blueprint that the Nuggets and their front office can decide to copy.
Their center and point guard spots are already secure with Jokic and Murray manning them respectively, but there is a hole at the shooting guard and power forward positions for them to fill this offseason.
Re-signing Bryn Forbes would be a great start for them, but getting a player like Malik Monk and T.J. Warren could be of great benefit to their success, especially on the offensive end.
The Nuggets have a tough hill to climb with Jokic carrying the entire franchise on his back and the outcome of Game 3, and the series could ultimately force the Nuggets' front office to reevaluate what positions they will need to tweak to catch up to their peers.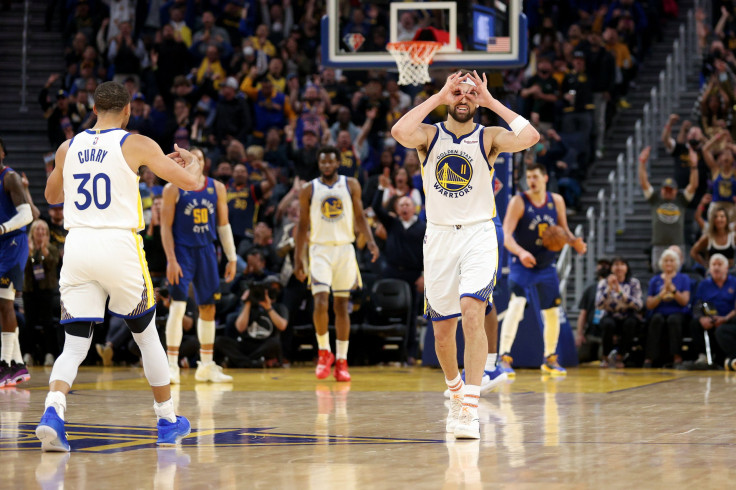 © Copyright IBTimes 2022. All rights reserved.
FOLLOW MORE IBT NEWS ON THE BELOW CHANNELS