NBA Trade Rumors: Lakers Won't Settle For 'Damaged' Goods In Exchange For Westbrook
KEY POINTS
The Lakers will pay close attention to offers for Russell Westbrook
Los Angeles may veer away from any deal involving Gordon Hayward
The Pacers also have Westbrook on their radar
The Los Angeles Lakers are aware that Russell Westbrook may exercise his player option, but he may want out of Hollywood.
Some teams have expressed interest, but it appears the franchise will only agree to a deal if a particular requirement is met.
After a sorry season, one thing the Lakers have learned is that they need to properly screen the health of their players.
Injuries took their toll on the stellar-but-aging roster, one of the things that pundits feel contributed to their plight.
Westbrook hardly sat out due to injuries but was an obvious misfit.
With potential trade pitches looming over the horizon, the Lakers are expected to pay close attention to the injury history and health of any player who may be offered to them.
One team that has been linked to the Lakers is the Charlotte Hornets.
According to sports scribe Marc Stein, Gordon Hayward and Terry Rozier could be part of a potential deal with the Lakers.
For Charlotte, the deal would make sense. It would erase some long-term salary on their end, allowing them to divert funds towards young and rising stars such as LaMelo Ball and Miles Bridges.
But likely learning from their recruitment efforts last offseason, the Lakers may not bite according to Stein in another report.
Hayward, someone who has become injury-prone since leaving the Utah Jazz in 2017, may not be a player the Lakers would want.
Hence, Charlotte may have to find other assets to offer to the Lakers or include a conduit team as a potential scenario.
Aside from the Hornets, the Indiana Pacers are another team being linked to the 2017 NBA MVP.
In a report from The Athletic, Indiana could look into the possibility of trading for Westbrook–a move that is also meant to shed off long-term contracts.
The names of Buddy Hield and Malcolm Brogdon have been mentioned as potential targets.
Of the two, Hield is best known as one of the targets of the Lakers before they decided to sign the 33-year-old All-Star.
Westbrook is due $47.1 million for the 2022-23 NBA season.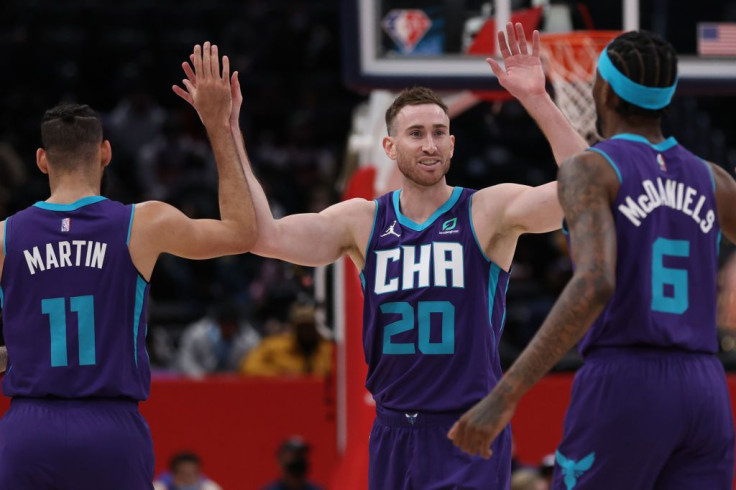 © Copyright IBTimes 2023. All rights reserved.