Can Dogs Get Ebola? 'Save Excalibur' Petition Fails, Leaving Questions About Virus Transmission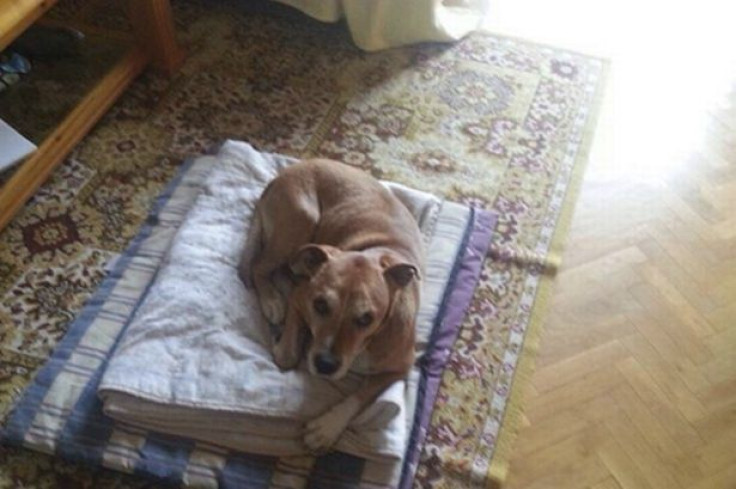 Excalibur, the dog of a Spanish nursing assistant who contracted Ebola, was euthanized Wednesday over growing fear he was exposed to the deadly virus. More than 370,000 individuals signed a petition on change.org to save the sandy colored mixed breed mutt. But Madrid made due on their promise to kill the animal, without first testing it for the virus. Given the threat of Ebola to the worldwide human population, is the dog's killing justified?
The fight for the pet's life raised questions of whether dogs can contract Ebola and/or transmit the disease to humans -- a question that hasn't been given a great deal of scientific attention until now. According to a 2005 report published by the U.S. Center for Disease Control and Prevention, evidence exists that dogs are at risk of contracting the virus, but it is far from conclusive.
"There is one article in the medical literature that discusses the presence of antibodies to Ebola in dogs. Whether that was an accurate test and whether that was relevant we do not know," CDC Director Tom Frieden said of the 2005 study at a news conference Tuesday. The findings involved testing more than 400 dogs exposed to Ebola after the 2001-2002 outbreak in Gabon. "We have not identified [the presence of antibodies] as a means of transmission," Frieden added.
Dogs can be at risk of infection due to their close proximity to infected human body fluids or through infected bats or consumption of infected wild meat, according to International SOS, a London-based company that provides integrated medical, clinical and security services worldwide. The CDC study concluded that these risk factors can lead to infection in canines, but they would be asymptomatic.
According to Sharon Curtis Granskog, a spokeswoman for the American Veterinary Medical Association, the risk of infected dogs spreading Ebola is very small in the U.S. and other areas where dogs aren't near infected corpses or eating infected bushmeat. In Dallas, where Thomas Eric Duncan was treated, officials said they "are not monitoring any animals at this time," Texas Health Commissioner David Lakey told the Associated Press.
There's a growing consensus that fruit bats -- three species in particular -- are responsible for the Ebola virus.
"In general, Ebola researchers think that the natural host of Ebola virus are fruit bats, and that the virus is transmitted to non-human primates and then to humans through the bush meat trade," Purdue University's David Sanders, one of the world's leading experts on zoonotic diseases, told Discovery News.
Besides humans, Ebola has been seen in monkeys, chimpanzees, rodents, pigs, gorillas and porcupines -- animals that eat the same fruits as fruit bats, eat fruit bats themselves or eat meat from infected animals. Excalibur, the dog euthanized in Spain, was a domestic pet and presumably didn't have access to fruit bats, although he could have come into contact with his infected owner's bodily fluids. Spanish authorities said they destroyed the animal because it was "the only way of eliminating the existing risk of the transmission of the illness."
In humans, Ebola symptoms present anywhere between two to 21 days after infection. They can include high fever, headache, joint muscles, sore throat and stomach pain. The virus spreads through contact with infected blood, tissue and bodily fluids. Individuals are contagious when symptoms appear.
In Spain, Maria Teresa Romero Ramos contracted the virus at Madrid's Carlos III hospital after treating Manuel Garcia Viejo, a priest who became infected in West Africa. She thinks she may have been exposed after the gloves she used made contact with her face, Dr. German Ramirez, a doctor who is treating the nurse's aide, said in a news conference.
Ramos was taken into isolation several days after developing a slight fever on Sept. 30 while on vacation. She was hospitalized on Oct. 6. Since then, the Spanish government has been under fire for its response to the incident. Her husband, Javier Limon Romero, has been under observation and has shown no signs of symptoms, CNN reports.
Since Spanish authorities announced they would euthanize and incinerate the dog, animal activists have staged protests and taken their cause to social media using the hashtag #salvemosaexcalibur.
Romero said Spanish officials first asked his permission to euthanize Excalibur. When he refused, they filed a court order to have the dog put down.
"If this problem worries them so much I think they should look for another type of alternative solution, such as putting the dog in quarantine and observation like they've done with me," Romero told Express.
FOR FREE to continue reading
✔️ Unlock the full content of International Business Times UK for free
offer available for a limited time only
✔️ Easily manage your Newsletters subscriptions and save your favourite articles
✔️ No payment method required
Already have an account? Log in
© Copyright IBTimes 2023. All rights reserved.