Can Stricter Gun Laws Prevent More Mass Shootings In The US?
In the last 40 days, the United States witnessed two mass shootings — one in Sutherland Springs, Texas and the other in Las Vegas. Devin Patrick Kelley opened fire on parishioners attending a service at a small Baptist church in Sutherland Springs on Sunday, killing at least 26 people and wounding 20, while Stephen Paddock gunned down 58 people at a music festival from a Las Vegas hotel Oct. 1.
Ann Stefanek, a spokeswoman for the U.S. Air Force, told NBC News on Sunday that Kelley was courtmartialed in 2012 on charges of assaulting his spouse and child. A judge sentenced Kelley to 12 months confinement, reduction in rank to basic airman and gave him a bad conduct discharge, Stefank added.
The Las Vegas gunman Paddock was a gambler and real-estate investor who lost significant amount of wealth since September 2015, which led to depression, reported CBS News. Authorities found 23 guns stockpiled, a dozen of them modified to fire continuously, and cameras inside the upper-floor hotel room he had specifically requested for, overlooking the Harvest Festival, the news channel reported.
President Donald Trump, who came to power with the support of gun rights advocates National Rifle Association, said about the Texas incident, "Mental health is your problem here. ... This isn't a guns situation. This is a mental health problem at the highest level. It's a very, very sad event," according to CNN.
But after both the shootings, the cries for gun control have been strong. Former President Barack Obama tweeted about taking "concrete steps we can take to reduce the violence and weaponry in our midst," while Connecticut Democratic Sen. Richard Blumenthal posted on Twitter the need for "commonsense gun violence prevention steps."
CNN recently reported Americans own by far more guns per person than the citizens of any other country and nearly half — 310 million — of the world's estimated 650 million civilian-owned guns are possessed by Americans. According to USA Today, there are more than 54,000 federally licensed firearms dealers in the country and the stores that sell guns range from small outlets to Walmart, which is the country's largest gun seller.
U.S. federal gun laws regulate the sale and use of firearms but the state laws vary and are independent. Federal law requires gun dealers to perform background checks under the 1993 Brady Handgun Violence Prevention Act and there are 10 sections under which people can be rejected — the mentally ill, people convicted of domestic violence, anyone charged with a crime, felons, fugitives, illegal immigrants, drug addicts, people who have renounced U.S. citizenship, people under restraining order and some legal immigrants.
The first two points should have ideally ensured Kelley and Paddock were not allowed near a gun. Unfortunately, in states such as Alabama, Texas, South Dakota and Florida, background checks are not mandatory, while in states such as Nevada, the rule is not enforced.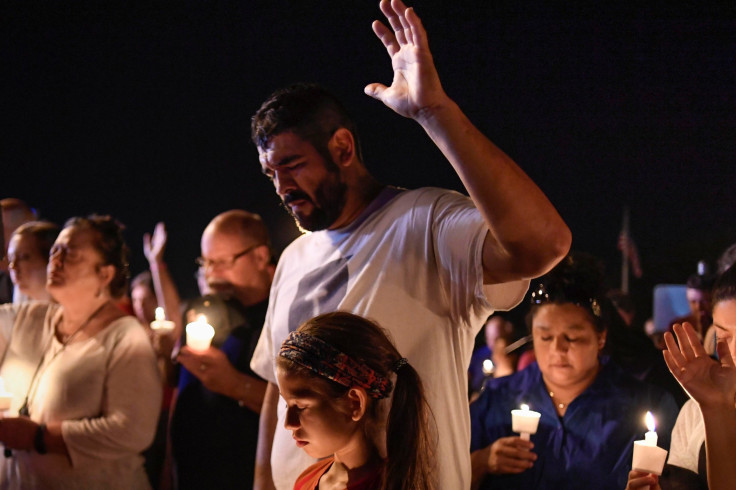 Nevada voters narrowly approved a ballot measure to ensure background checks for gun sales between individuals. CBS News reported the law was not being enforced due to a standoff between state and federal officials over who would be responsible for the background checks.
Nevada's Attorney General Adam Laxalt, who had campaigned against the gun control measures, was one of the officials who argued the law was not enforceable because the law states the FBI should conduct background checks and not the state, CBS News reported.
According to Bloomberg, State University of New York at Cortland political scientist Robert Spitzer said, "It is certainly possible to work these things out. ... And that happens all the time, certainly with respect to federal government-state government relations — when the parties are willing to do it."
"Could they have worked this out? Of course they could have. But the key state leaders have shown little interest in doing that. So guess what? The law is going nowhere," he added.
© Copyright IBTimes 2023. All rights reserved.