Can Tiger Woods Win The 2018 PGA Championship? Golfer Among Favorites, Could End Major Drought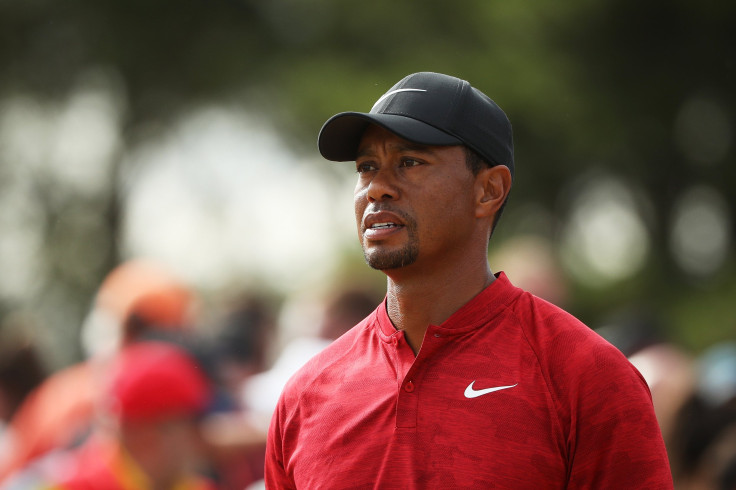 Tiger Woods finished tied for sixth place at Sunday's British Open, marking his best performance at a major championship in five years. Woods even had sole possession atop the leaderboard at one point in the tournament's final round, leading some to believe that it might not be long before the golfer finally wins one of the sport's four biggest events.
Woods' last chance to win a major this year will come on Aug. 9 at the 2018 PGA Championship at Bellerive Golf Course in Town and Country, Missouri. Only a handful of players are given a better shot than Woods to finish in first place.
Dustin Johnson, Rory McIlroy and Jordan Spieth are all tied with 12/1 odds, according to Bovada.lv. Woods is right behind that group, tied with Justin Rose and Justin Thomas with 16/1 odds.
Rose and McIlroy finished just one stroke ahead of Woods at the British Open as they tied for second place, shooting six-under-par over the course of four days. Woods was a stroke ahead of Spieth. Johnson and Thomas both missed the cut, despite being among the favorites at the start of the tournament.
"I need to try and keep it in perspective because, the beginning of the year, if they'd have said you're playing The Open Championship, I would have said I'd be very lucky to do that," Woods told reporters Sunday.
"I know that it's going to sting for a little bit here, but given where I was to where I'm at now, blessed."
Since returning in November from the back injury that's affected him for years, the golfer has slowly shown glimpses of what once made him the sport's most dominant star. Woods earned a fourth-place finish in the his last tournament before the British Open. He's got four top-10 finishes in 12 tournaments this season, placing sixth or better in his last nine tries.
Woods was only able to compete in one 2017 event and he failed to make the cut. Woods missed the entire 2016 season because of back surgery, and that was after a 2015 season that saw him place no higher than 10th and make the cut in just one major tournament.
You've got to go back to the 2013 WGC-Bridgestone Invitational to find the last tournament Woods ever won. He was named the 2013 Player of the Year, winning five events with a fourth-place finish at the Masters and a sixth-place finish at the Open Championship.
Woods' last major championship victory came at the 2008 U.S. Open. He had seven top-six finishes in majors between 2009-2012 but no victories to show for it.
© Copyright IBTimes 2023. All rights reserved.