Canadian dollar hits six-week high after strong data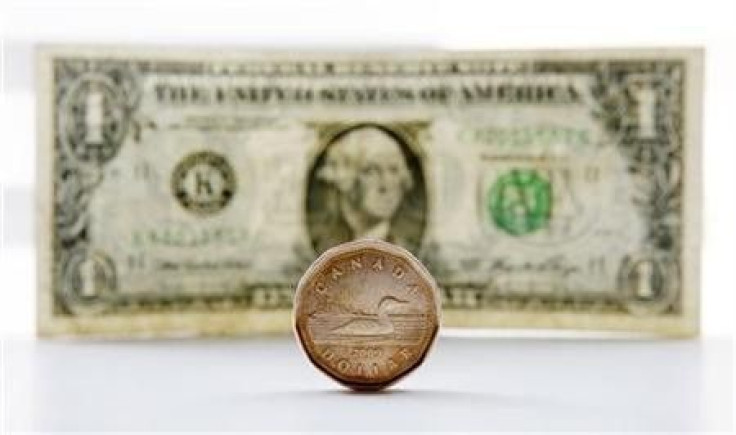 The Canadian dollar touched a six-week high against its U.S. counterpart on Thursday after Canadian manufacturing data beat expectations and solid demand at a euro zone debt auction eased investor fears about Europe's sovereign debt crisis.
Canadian manufacturing sales rebounded in November to their highest level since October 2008 after a mild downturn in October, led by the machinery, automotive and energy sectors.
The data from Canada this morning gave the Canadian dollar a bit of a boost, said Shaun Osborne, chief currency strategist at TD Securities. There is a good chance we get down somewhere close to par in the short run.
Data showing the number of Americans filing for new jobless benefits dropped to a near four-year low last week also boosted investor sentiment.
Just after the data the Canadian currency firmed to a session high of C$1.0071 to the U.S. dollar, or 99.29 U.S. cents, up from Wednesday's finish at C$1.0112 to the U.S. dollar, or 98.89 U.S. cents. It was the currency's highest level since December 8.
The Canadian currency has strengthened against the U.S. dollar recently as global risk appetite has improved, which has also lifted commodity prices and equity markets.
The negative correlation between stocks and currency markets has weakened quite a bit from where we were late last year, said Osborne. If we see this run in stocks continue the (U.S.) dollar will probably struggle to improve.
We've broken a few important (U.S. dollar) support points over the last couple of days from a technical perspective which suggests there may be a bit more downside to come.
Over the last few sessions the Canadian dollar has slid below its 100-day moving average, a key technical level that could signal a broader move towards parity with its U.S. counterpart.
Osborne added the Canadian currency may test its 200-day moving average at about C$1.0050, or 99.50 U.S. cents.
The euro also rose on Thursday, supported by a solid response to a Spanish debt auction that signaled a less bearish mood by investors towards European debt. Spain sold 6.61 billion euros of government bonds in its first major auction after last week's credit downgrade by Standard & Poor's.
Sentiment was also lifted by news the International Monetary Fund is seeking to more than double its war chest by raising $600 billion in new resources to help countries deal with fallout from the euro zone debt crisis.
Still, Greek default fears weighed after reports there had been little progress in this week's ongoing talks on a bond swap deal.
Canadian government bond prices were mostly down, with the two-year bond falling 1 Canadian cent to yield 0.995 percent. The 10-year bond dropped 13 Canadian cents to yield 1.977 percent.
($1 = 1.01 Canadian)
© Copyright Thomson Reuters 2023. All rights reserved.